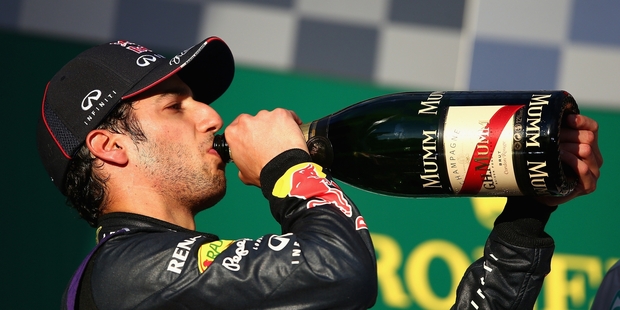 He won, without winning. Then lost, without losing.
If Daniel Ricciardo couldn't quite believe his podium finish at Sunday's Australian Grand Prix, it's a sure thing he can't fathom the post-race events.
The Perth-born 24-year-old finished second in the Melbourne Grand Prix.
He couldn't stop smiling as he celebrated his best Formula One finish.
He'd become the first Australian to finish on the podium at a home grand prix since the event joined the F1 world championship in 1985.
Corks popped, Ricciardo showered under a magnum of the finest French champagne - Mumm's was the word.
Beaming, Ricciardo attended a media conference.
When questions were directed at race winner Nico Rosberg and third-placegetter Kevin Magnussen, the Australian was caught looking down, trying to suppress yet another smile.
This was beyond his wildest dream - a podium placing, on home turf, in his first race for the famed Red Bull Racing team.
Ricciardo spoke of embarrassment at seeing his smile plastered on massive Melbourne billboards; of how he would have to get used to the fame; of the pressure of carrying an entire nation as passenger.
Then, he headed back to the Red Bull racing garage, planning to "enjoy a beer and relax".
But some 80 minutes after crossing the finish line, Ricciardo's world was rocked: he'd broken a F1 law regarding allowed fuel flows during the race.
Instead of a beer, Ricciardo and Red Bull were summoned to a stewards investigation to explain why they'd gone over the prescribed fuel flow rate of 100kg an hour.
The rule is a newbie, among others introduced for this season.
Some five hours after the finish, Ricciardo learned his fate.
He was "excluded from results".
- AAP