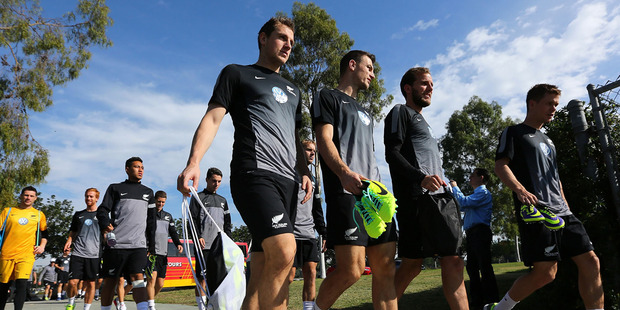 It is understandable - and quite reasonable - that the All Whites wanted to avoid the media on Saturday morning in Wellington but they needed to do it in a smarter way.
The New Zealand side have been inundated with media over the last week in Los Angeles and Mexico. Ricki Herbert was swamped upon arrival in Los Angeles and over the next two days the All Whites had lengthy media sessions, where members of the starting line-up were available for up to an hour.
The Mexican media were impressed - "we would never get this access with the Mexican team" - remarked one journalist and their plethora of television channels took full advantage.
Marco Rojas, who is fluent in Spanish was a particular target, and completed a huge number of one on one interviews.
Upon arrival in Mexico - at close to midnight local time the team was intercepted by 70 Mexican journalists, reporters and photographers, who almost knocked Rojas off his feet in their eagerness to get to the VFB Stuggart player.
After the game most of the team, despite suffering a truly soul destroying loss at the Azteca Stadium, fronted up to the New Zealand travelling media for extended interviews back at their hotel.
They then faced a long trip home, including a ten hour wait in Los Angeles before boarding the flight to Auckland.
Facing Mexican and New Zealand media was the last thing they would have wanted to do but a compromise should have been reached. With the post match controversy around coach Ricki Herbert, perhaps assistant coach Neil Emblen could have been put forward to face the press, as well as one of the more experienced members of the team like Tommy Smith, Ivan Vicelich or Glen Moss.
'Shunning' the media is hardly new; double Olympic gold medallist Valerie Adams refuses to speak to anyone in days and weeks before competition.