David Tua's career-on-the-line fight with big Belarusian Alexander Ustinov is notable for more than just the big-hitting Tua's chance at a world title.
It is also a move by the wheelers and dealers of New Zealand boxing to create a toehold in the lucrative "European" market, nestling up to the German-Ukrainian axis that effectively controls the heavyweight division.
It is still possible to think of the US as the spiritual home of heavyweights, thanks to Muhammad Ali, Joe Louis, Joe Frazier, Mike Tyson and co. But David Tua and promoters Duco Events are working closer with K2 Promotions - the boxing stable operated by the brothers Klitschko (Wladimir and Vitali), the huge Ukrainian who own all four heavyweight world titles and who have so dominated that they have effectively run out of credible opponents.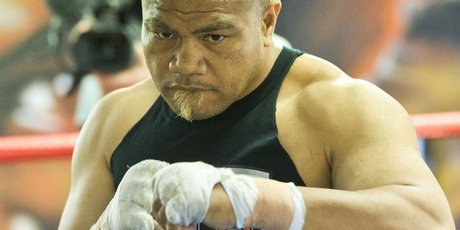 For this, the brothers have been criticised, especially across the Atlantic. Americans do not like the loss of "their" premium division to eastern European operators.
They don't like the European style of boxing (more upright, with a more defensive guard whereas US fighters tend to operate with lower hands and throw more punches and more varied punches, or so the theory goes). They call it boring and don't like it when the Klitschkos, using their big, heavy, jabs and sound defensive skills wear down and dispatch yet another challenger.
The latest example was Wladimir's easy victory over Russian challenger Alexander Povetkin, previously undefeated but knocked down four times in a bout greeted as tedious in the lucrative US TV market - an audience showing signs of resistance to paying up for yet another Klitschko bout. It is hard to blame either Klitschko for winning easily, as they usually do. The purse for this bout was US$24 million - the winner's share (US$17.5m) surely all the more satisfying for being achieved at little risk to himself.
The Klitschkos are smart, chess-playing, savvy businessmen with an eye to a life beyond the ring. So a bout involving a K2 fighter (the massive 2.03m, 132kg Ustinov) is a great chance for Tua and Duco to forge a firmer business alliance by staging a good fight that makes everybody money and which has audiences thirsting for more.
K2 chief Alexander Krassyuk, in New Zealand to watch tonight's fight in Hamilton, is a young man but one of the most powerful in the boxing world and certainly in the heavyweight division. He agrees amiably when it is suggested that, if Tua wins against Ustinov, a world title fight involving one of the Klitschkos could be held in New Zealand. Krassyuk doesn't leap out of his seat at the idea but doesn't dismiss it either. The US$24m purse doesn't have to be a barrier - that price was inflated by Povetkin's billionaire backer in what is known as a purse bid. There are suggestions a fight could be staged in New Zealand for about US$8m.
"It's possible, yes, but everything depends on the fighter and the commercial opportunities. Every year there are new stars coming up and maybe one will spring up who will command a big audience - it could be Africa, Australia, New Zealand ..."
However, it is clear that the seat of heavyweight power is the Germany-Ukraine axis. The brothers are resident in Germany where they have a valuable TV partnership with RTL and their fights attract an audience of 10-15 million every time. In the Ukraine, their fights grab 20 per cent of the viewing market.
Krassyuk has made the point that, even if Tua wins tonight, it might be 12 or 18 months before a title fight with either brother takes place. So creating a good impression and bringing some spice to the heavyweight division is a good move for Tua who might find himself another fight or fights in the K2 environment before he gets a crack at either Vitali or Wladimir (always assuming he gets past Ustinov first; his career prospects if he loses are not pretty).
Krassyuk shrugs when asked about accessing the US TV market and the suggestion that Tua, well-remembered in the US, might be the sort of boxer to get flagging heavyweight ratings up again if he was pitched against a Klitschko.
"Maybe," he says, "but I think you can't compare the US market to anything else. If you want to be a star in the US, you have to be in the US, you have to live there and fight there and be a part of the lifestyle. Lennox Lewis [the former heavyweight champion who previously dominated before the brothers] was a top boxer - but even he is not regarded well in the US market."
Lewis, like the brothers, was a fine defensive fighter - big, strong, fast enough with heavy hands. He went the distance with Tua in 2000, easily winning a unanimous decision. But he, too, was derided as "boring" by many in the US.
Krassyuk clearly doesn't have a warm opinion of the US market and feels that the seat of power will remain in Europe and, as far as fighters are concerned, in those emerging from across the old Soviet republics.
His features darken when he says: "We see what Americans like when we see what happened with Perez and Abdusalamov."
Mike Perez - a Cuban expat living in Ireland - is a K2 boxer and an up and coming heavyweight; only 28 and 1.85m but strongly built and a puncher of some repute, he left Russia's Magomed Abdusalamov in a coma after their fight on November 2. It was a 12-round unanimous decision but Abdusalamov, 32 and like Perez undefeated previously, asked his corner twice about the state of his face - a question some say should have led to the corner throwing in the towel.
The damage included a broken left hand, a broken nose and he was taken to a local hospital where a small blood clot was discovered on the brain. He was placed in a medically induced coma to reduce the possibility of serious complications. He had suffered a stroke and is still on life support, his future unclear though he will never fight again.
Krassyuk says: "That's the sort of thing Americans want." They want blood? "Yes. Take a look at YouTube, look at the video collection there. Most US viewers are watching some horrible videos."
He says the rise of cage fighting and other more primeval physical contests stem from that attitude. Meanwhile, he believes the old Soviet republics are producing boxers like the US used to - fighters hungry for recognition and success and who saw boxing as both a lifestyle to be proud of and a way out of an ordinary life; a chance for fame.
The old republics produced far more boxing medals at the 2012 London Olympics than the US, he says.
The one exception to this may be 28-year-old American Deontay Wilder. An impressive physical specimen, 2.01m and more than 100kg, he has won all 30 of his fights and this year made a mess of two "former" names - Britain's Audley Harrison and 37-year-old Belarussian and former WBO world title holder Siarhei Liakhovich. "I think he could be a star," says Krassyuk.
So that is the environment into which Tua and Duco are throwing their hats. Cynics may dismiss all this as fluffy boxing talk and point to Vitali Klitschko's impending retirement as cutting Tua's chances of a title fight in half.
But Vitali isn't retired yet; his intention to stand for Ukraine's presidency in 2015, opposing sitting president Viktor Yanukovich, hit a rock when the government passed a law preventing anyone paying tax outside Ukraine from standing for the presidency. It also decreed that presidential candidates must have lived in the Ukraine for the previous 10 years - an obvious blow at Klitschko who has lived mainly in Germany and who is leading in the polls.
It is not known how Vitali will get around these new laws, especially in a country where vote-rigging is not unknown and where two previous political opponents of political regimes there were jailed and poisoned respectively.
But he is unlikely to give up boxing just yet and Krassyuk shrugs when asked about 41-year-old Vitali's long absence from the ring (now over a year). "The last time he retired, he was gone for four years. Then he came back and beat [tough Nigerian-American heavyweight] Samuel Peter. He can do it again."
The big question now is: can David Tua?