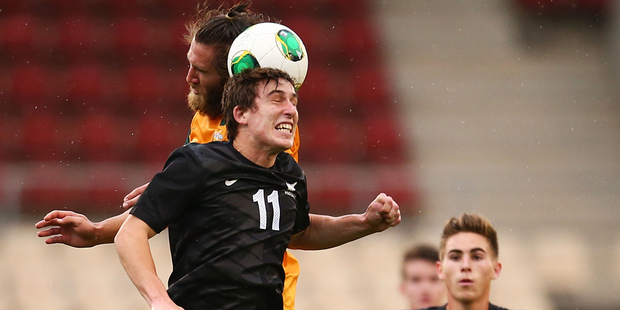 This summer the ASB Premiership will experience its most radical change in a decade by introducing Wanderers SC, a team preparing to represent New Zealand at the 2015 U20 World Cup, and dropping Youngheart Manawatu.

But as New Zealand football navigates this major structural shift, some in the game claim it is a step in the wrong direction and a move destined to produce inferior results.

For the past four years, former professional footballer Nate Winkle has helped develop some of New Zealand's top players at Ole Academy, a Wellington based facility that eats, breathes and lives football.

Next year 110 elite Kiwi footballers aged 9-19 will train full-time at Ole under the tutelage of the academies' three full-time coaches and Winkle believes this blueprint - carried out around the country - would produce far superior results than New Zealand football's proposed changes.

"It's probably the most clear misunderstanding of what it takes to develop elite players that NZF has had in a long time," said Winkle.

"They have effectively said 'no one else in the country knows how to develop players' and we don't trust them to do it, so we're going to try and identify and train the best 25 kids ourselves and get them ready for the 2015 World Cup.

"But the assumption that the kids who are good now are going to be the best in 2015 when the World Cup comes off is not backed up by any sort of evidence anywhere in the world.

"If you look at this year's U-20 World Cup team and 2011 U-17 WC team I think there were maybe a third of the kids at most that were in both teams."

Instead, Winkle would encourage a national club-based league that connects clubs all the way down through their youth, allowing the kids to get quality coaching four times a week from the same coaches.

"It can't just be about the adults anymore.
The best kids need to be able to play against the best kids up and down the country.

"There's tons of money in the country right now being dumped into these player development programs from NZF but it's misdirected. I don't see this being that difficult to pull off."

New Zealand Football's acting Chief Executive Mark Aspden acknowledged that there are a wide variety of ways to develop elite players and said clubs, Federation Talent Centres, schools and private providers were all involved in the long term process.

"The key reason behind the inclusion of the Wanderers SC team in the ASB Premiership is to maximise the level of game time, in a cost-effective manner, for a number of our players at a standard which will best prepare them for the level of competition they will face internationally," Aspden said."

"Players up and down the country will have the opportunity to earn selection to the Junior All Whites side to compete in the World Cup in this country in 2015. Involvement in the Wanderers SC team isn't the only pathway for eventual selection to that squad."