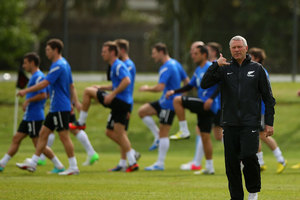 Mexican club side Queretaro are seeking a Fifa sanction against New Zealand Football for pulling out of a friendly with the All Whites this weekend but NZF aren't expecting the world's governing body to take any action against them.
The All Whites and Queretaro were originally due to meet in a six-team tournament in Los Angeles but that tournament fell over when a team from El Salvador couldn't play because visa issues.
Talks were then held for New Zealand and Queretaro to still play, either in LA or Mexico. Queretaro felt they had an agreement - tickets had gone on sale - and feel aggrieved the match won't take place.
"After an agreement between the Queretaro board and the New Zealand national team to play an international match, the New Zealand federation withdrew unilaterally from the commitment, after formally confirming they were taking part,'' Queretaro said in a statement. ``The board will take the necessary measures to make known our dissatisfaction before the pertinent judicial bodies and ask for a sports sanction through the International Football Federation (Fifa).''
NZF high performance manager Fred de Jong expressed surprise at the development but didn't expect anything to come of it. Fifa don't typically engage with club sides, meaning it would be up to the Mexican federation to take the action further.
"The issue they have is they have a contract with the agent [who was organising the tournament],'' de Jong said. "We could never agree terms with the agent [on playing Queretaro] so it fell over.
"We spoke with them yesterday and you could tell they were annoyed because they had been left in the lurch. They have been screwed over as well.''
De Jong said the episode had cost them ``tens of thousands'' of dollars and he could understand why Queretaro were seeking to recover their losses. NZF wouldn't be dealing with the agent in the future.
It has been a very messy week for the national body, especially given the All Whites' schedule wasn't finalised until after the players had landed in Los Angeles, with a number of learnings.
"Don't be so trusting of agents,'' de Jong said. "But the biggest thing is qualify for the Confederations Cup. If we had won the Oceania Nations Cup we wouldn't be in this situation. We would have played at the Confederations Cup, had a good programme and had US$1 million in the bank. That changes the whole scenario.''
The All Whites take on Californian club side Ventura County Fusion tomorrow before playing MLS outfit Chivas on Sunday and Trinidad and Tobago in Port of Spain on Wednesday.
The tour is the final one before next month's playoff against the fourth-placed nation from North and Central America for a place at next year's World Cup in Brazil.
- APNZ