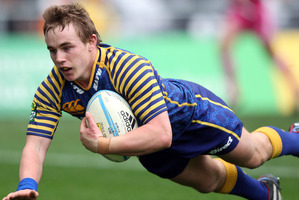 Otago scraped their way to a bonus point victory over championship battlers Northland in Whangarei, to retain some hope of gaining a home semifinal.
With just a four day break since their last ITM Cup game, and facing the powerful Auckland side in their final encounter, promotion chasing Otago benched some leading players including goalkicking ace Hayden Parker. The move wasn't too far away from backfiring though and they only confirmed their 31-21 victory with a driving try in the 79th minute.
A lightweight ramble greeted the sparse crowd, with both sides flinging the ball around with only moderate pressure on the ball carriers. The game may have darted around all over the place but the points didn't flow in the first half.
There was just one try midway through the spell after a burst and outstretched arm brought Otago prop Scott Manson the score after his side had ripped through the training drills against poor Northland resistance. Nobody else came close to the tryline, but there were all the indications that once legs began to tire, the scoreboard would start moving in the second spell.
The game definitely stepped up a notch.
The potential killer blow came early in the second half, after a burst from Otago No. 8 Paul Grant. Second five-eighths Tei Walden provided the deception, fooling two defenders including Rene Ranger, and sent Matt Faddes to the line. Northland responded with a mass of substitutions.
The home side finally found energy and joy late in the third quarter through a Sonatane Takulua try and quickly followed that with a Ross Wright try after a well-timed charge by the prop. Game on, as were the high profile players from the Otago bench. Captain Grant made a superb run to set up the try which sent Otago to a 10 point lead with 13 minutes remaining and Northland quickly replied but went no further.
Otago 31 (Scott Manson, Matt Faddes, Jayden Spence, TJ Ioane tries; Peter Breen 2 pen, Hayden Parker con, pen)
Northland 21 (Sonatane Takulua, Ross Wright, Robbie Abel tries; Daniel Hawkins 3 con).
Halftime: Otago 8 - 0.