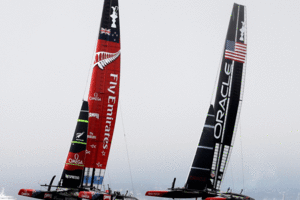 That was the biggest dent in Oracle Team USA's confidence since the America's Cup cheating saga - but OTUSA skipper Jimmy Spithill said it had to be done.
The man who had previously called for San Francisco and US residents to support his team and boost their confidence, today re-wrote America's Cup history by opting not to race, even though the boat was unimpaired.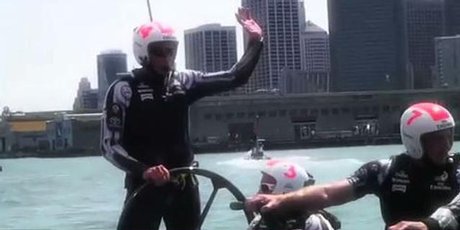 The "postponement card" is normally played when a boat has a gear or equipment problem that needs time off the water to fix. Postponing a race because your team needs to re-group is a big signal to the challenger, Emirates Team New Zealand, that the defender's grip on the America's Cup is slipping.
"I would say to those people [of San Francisco] that we are doing everything we can to win the Cup," said Spithill. "The boat is fine. We feel like we need to re-group, have a good look at the boat - it's obvious we have to make some changes. If all things were great, we wouldn't have played the card.
You have to be honest with yourself. We have to do what we can and we will."
Asked if the postponement was a sign of demoralisation, Spithill said: "That's sport. This is a long series. It's not over. This is not the end of the competition...this doesn't worry us. This team is not flustered. We have been here before, it's just a matter of working hard again and putting things right.
"We can win races, we have won a race against them. We just have to be very, very smart about how we do it. We can beat these guys; we have shown we can."
Given a good old-fashioned hiding on the water - Emirates Team New Zealand lost the sprint to the vital first mark but won the race by 1m 5s - Oracle Team USA then played their postponement card to end the racing for the day, leaving Race 6 to another day.
All teams can opt to play that card once only to postpone a race, meaning OTUSA are now vulnerable to losing a race if they have a serious breakdown, Spithill said: "Team NZ obviously have the edge upwind, I'm not going to hide from that. So we have played the card strategically, and we will re-group and improve for the next race.
"It's not just about upwind - there were a couple of mistakes there. Tacking is still something we have got to address. We need to make sure we get things right for the next time."
So Race 6 will be fought out on Friday (NZT), with today a lay day (but not a reserve day, when a postponed race can be run to catch up with the schedule; reserve days do not click in until next week).
Earlier Team NZ ran away with the upwind leg of Race 5 - and ran away with the race to lead the series 4 to -1.
OTUSA also made mistakes, particularly the attempted foiling tack that cost them badly on that vital upwind leg.
Maybe knowing that Team NZ are faster upwind, Oracle Team USA tried to pull off a foiling tack to cover them as they rounded the mark at the end of an impressive downwind run. On that run - and at the start - OTUSA had shown excellent acceleration.
They won the sprint race to the first mark, leading by four seconds, and sailed quickly off to the bottom mark, leading by eight seconds.
But they tried to do a foiling tack, which they had practised out in the Bay yesterday, but failed spectacularly. They didn't foil and the manouevre almost stalled them. They slowed, their 180m lead was quickly closed down by the Kiwis - and then the Kiwi speed upwind took over.
The foiling tack attempt was a mystery. There seemed to be no need to do it and it ended up surrendering the important starboard side of the course.
This may be the regatta-deciding race; it is difficult to know what OTUSA can do to improve upwind speed and - taken over the five races so far - their boat seems less stable and less responsive than ETNZ's.
OTUSA have speed reaching and downwind but the Kiwis' upwind speed looks decisive now, particularly with the pressure of that forcing the American boat into mistakes.
Questions were also raised about changing tactician John Kostecki but Spithill said it was too early for talk like that; they had to focus on making the boat go faster first.
ETNZ skipper Dean Barker said there were obvious areas OTUSA could address - mainly appendages like rudders and boards but "there is always a price to pay", he said - meaning that enhanced speed upwind might cost them their speed downwind and reaching.
Team NZ, said Barker, would concentrate on keeping their boat going fast, would work hard on improving their reaching speed to mark 1 so they could lead and dictate the race from the front some times.
"But the boat is going really well upwind and the guys are doing a really good job with the manoeuvring, the tacking and so on, and we are taking some pretty nice little gains there."
Typical Barker - understated, effective. Their upwind speed is doing Oracle's head in.
For the record, Oracle won the early exchanges but saw an 8s lead become a 1m 17s deficit at the end of the upwind leg, losing by 1m 5s at the finish.
They then decided they couldn't win Race 6 - and opted for postponement.