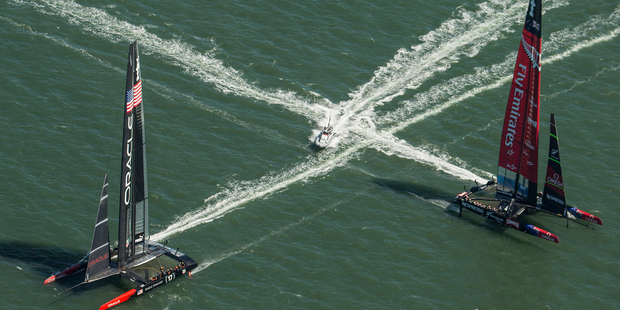 It was hideously tense and unbearable to watch, yet unmissable at the same time.
After a procession of one-sided races (sometimes literally) in the Louis Vuitton challenger series, we finally saw a real boat race in the America's Cup. And it was better than we could have ever imagined.
The AC72 catamarans might be obscenely expensive and complex contraptions, but Larry Ellison and Russell Coutts certainly delivered on their promise that it will be exciting, edge-of-your seat action. When you get two of these "ten million dollar carbon fibre missiles" - as Team NZ wing trimmer Glenn Ashby describes them - on the same stretch of water, the results are spectacular.
Although there's not many people around from the 19th century to corroborate, I'd hazard a guess today's opening race was the best racing ever seen in 162 years of the America's Cup - two boats, criss-crossing their way up the racecourse in a high-speed game of chicken, the lead changing a couple of times.
There is now little doubt that whoever wins the Auld Mug (while Team NZ are looking sharp, it's certainly not in the bag yet folks), these types of boats are the future of America's Cup sailing.
In the space of one 25-minute race, the two teams managed to convert not only those sceptical traditionalists who may have been longing to return to the "glory days" of monohull racing, as well as a new breed of non-sailing fans.
How the defender balances the need to keep the research and development costs down with ensuring the event remains at the cutting edge of technological advancement is a decision the eventual winner will have to grapple with, but for now the focus will remain on this event.
And what a series it is shaping up to be.
It is hard to draw any firm conclusions on the relative performances of the two boats after the opening day of racing. Team NZ were the most composed and well-drilled crew of the two, and you'd give them a slight edge upwind, but in another set of conditions it's quite possible Oracle Team USA could be faster.
What is clear after today is small mistakes or slight lapses in concentration can be costly for teams. Precision execution on manoeuvres is key. That is one area Team NZ have excelled in throughout the racing in San Francisco, but no one quite knew how crew would respond when they were really pushed. They were not put under pressure at any point during the challenger series, now all of a sudden they had another boat is breathing down their stern, steered by the aggressive Oracle skipper Jimmy Spithill.
The way the Kiwi crew held up under that sort of pressure was the most promising sign to be taken from today.