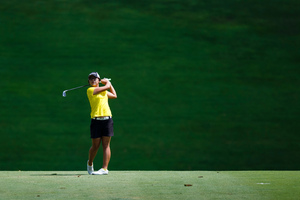 The Americans have a term for it: Lydia Ko would be a phenom. A wretched expression for sure, but you get the drift. After her superb defence on Monday of the Canadian Open crown won last year, the nerveless 16-year-old is up to a New Zealand-best seventh in the official world rankings, a jump of 12 places.
Only Michael Campbell, in his stellar 2005 year when he won both the US Open and the world matchplay championship, is close, at his career-high No12.
The golf world is truly her oyster and it's no surprise Ko is showing signs of tiring of the constant question of when will she turn professional.
The answer, of course, is when she's good and ready.
The Year 12 student from Albany's Pinehurst School won by five shots at Alberta's Royal Mayfair Golf Club.
She has now gathered four professional titles as an amateur and is the youngest and second-youngest winner on the LPGA Tour.
The thought occurred, as Ko was marching to her victory this week with a relentlessness which is a hallmark of only the very best, what must be the philosophy of her chasers?
Rather than taking risks to overturn a several-shot lead, they'd probably figure that as Ko can't pocket the first-prize money, with a bit of care and concentration they could be on hand to take advantage when the cheques are divvied up from No2 finisher down.
Ko has had six top-five finishes this year, and would have received US$970,000 ($1.24 million) in prize money had she been a professional from the time she started playing the pro tournaments.
Next up is the Evian Championship, a major-listed event, in France next month. A major is missing from her CV, and should that be, ahem, a major element in the debate which will grow as the year reaches its end over the identity of the Sports Woman of the Year at the annual Halberg awards?
World shot put champion Valerie Adams and Ko are the leading contenders, with swimmer Lauren Boyle, who three times stood on the podium at the world champs in Barcelona last month, albeit not on the top step, hot on their heels.
And what of Olympic paddling champion Lisa Carrington? She is chasing two crowns, defending her K1 200m sprint title and the 500m event at the canoeing world championships this week in Germany.
The cart is careering ahead of the horse here, but what if Carrington happens to win double gold?
And then there are the two paralympic swimmers, Mary Fisher and Sophie Pascoe, who each won five golds at their world championship in Montreal this month. That opens up a whole different debate again.
How to compare the relative exploits of a shot putter with a golfer with a swimmer, with a ...? With difficulty.
What Ko's win this week certainly did, though, was remove any suggestion that as she gets older - that is, approaches all of 20 - she might find the going tougher.
Unlike team sports, or tennis, golf opponents can watch all they want.
But they are powerless to reduce their rivals' ability, only improve their own standards.
As World Golf Hall of Fame member and winner of 26 LPGA titles Judy Rankin said recently of Ko, over the coming years she will become "a very, very significant player in our game".