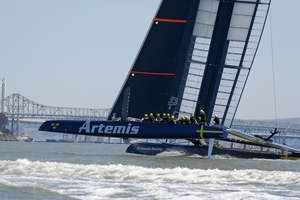 It was the best news the depleted Louis Vuitton regatta could hope for - Artemis sailing on San Francisco Bay and foiling.
The big blue 72-foot catamaran, which would maybe win the prize for the best looking boat at the 34th America's Cup, was out in 15-knot winds and foiled happily.
"Today could not have gone any better. It was a perfect day and exactly what our team needed," said helmsman Nathan Outteridge. "We got the boat on the water and foiling and we're happy with how it was foiling. It's a massive tribute to all the guys who have been working so hard to get us back out there."
Artemis' first boat went down a non-foiling design road. The second boat has embraced foiling - as have all other competitors. The others have had months to perfect techniques and systems but foiling first time up is a fillip for the team and the regatta, which sorely needs Artemis' participation.
The team, however, are still preaching caution and are stopping short of committing to being on the start line for the semifinals on August 6. However, in a statement, they did say that any participation in one of the final round robin races would be an unexpected bonus.
"We'd like to hope August 6 is achievable," Outteridge said. "But we know how much work is ahead of us now and we don't have a lot of time. This was day one for us while the other teams are on day 70 or 80, so we know we're a long way behind.
"But today was a big day in terms of catching up. Each step [we'll] evolve and we'll try to keep moving as fast as we can."
Oracle chief executive Sir Russell Coutts said of Artemis: "If they can get to a point where they race well, that will be stunning. But they've got a big hurdle. They have to get all their systems down and 11 guys co-ordinated on the boat.
"But they have Nathan Outteridge, one of the best all-round sailors in the world and [sailing team leader] Ian Percy; some great guys and incredible talent. The team made some design decisions that were wrong - they had some pretty strong design opinions there to begin with - and that's been part of the problem, too.
"Someone pointed out the other day that it was probably us [Oracle] that hurt them, too. Because we capsized, they weren't able to run up against us. Had they done so, they might have seen how things were going and changed their boat over Christmas."
Coutts said he had a feeling Artemis might make it: "Having said all the things that are against them, I must say that Nathan Outteridge is the sort of guy who just jumps into boats and, with very little practice, sorts them out straight away.
"It's the same with Tom Slingsby [like Outteridge, a gold medallist at the London Olympics]. He works for us and he's just 26 years old; Outteridge is 27. I think these two are the future of sailing. They are both so incredibly mature, especially in dealing with a big team like this.
"I look back at myself and there's no way I could have handled what Tom Slingsby is doing at 26. You put him in a room with designers and sailors and people listen. They have been brought up in a new era and it shows."
Artemis are scheduled to race in the round robin today against Luna Rossa but are not expected to compete. They are due to sail against Emirates Team NZ on Sunday and on Wednesday, before meeting Luna Rossa again on August 2.