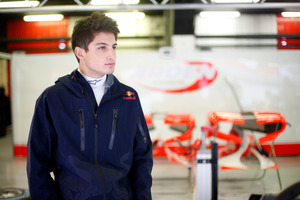 A day which started so promisingly for Mitch Evans ended in disappointment at the GP2 feature race at Nurburgring in Germany overnight (NZT).
For the briefest of moments, Evans led at the start of the race - the third consecutive feature race which Evans has led - but a couple of mistakes saw him slip to 16th.
The speed Evans showed a week ago at Silverstone was carried forward to the fifth round as the 19-year-old snatched fourth spot on the grid after yesterday's qualifying.
Evans had good traction off the line and, as the three cars ahead of him on the grid moved left and juggled for position, the New Zealander was presented with a clear run on the tighter inside line.
Leading the 26-car field into the first corner, Evans carried too much speed into the tightening apex and had to run deep into the runoff area on the outside of the corner. As he struggled to regain the track, he was swamped by the chasing pack and plummeted to 20th position at the end of a dramatic first lap.
"For a moment it felt good, I thought it was fine,'' said Evans. "Then I couldn't pull the car up and ran wide. I just didn't anticipate how low the grip was on the inside line. It was my mistake and it was a shame, but I had a crack at leading. I just wish I could have the chance to start again.''
A frightening mid-pack crash at the start brought out the safety car at the end of the opening lap, and when the field was eventually unleashed, Evans set about his recovery. The Arden team's strategy of starting on the hard tyre and running deep into the race before making their compulsory pit stop began to look on target.
As the race leaders stopped to change tyres, Evans stayed out and regained the lead on lap 20. He was at the front for three laps before diving into the pits to switch to a set of the softer compound tyres.
The intention was to challenge for eighth place during the second stint, which could have given Evans pole position for the reverse top eight sprint race tomorrow morning. However, the car toppled off the front jacklift during the tyre change and the team lost 15 seconds as mechanics had to lift the car by hand.
Evans dropped down to 20th place when he rejoined and, in spite of losing more time when he ran wide off the circuit, he fought back to finish 16th. It was a bitter disappointment for Evans. who has now led the feature race at the last three rounds of the GP2 series.
"I'm disappointed in myself,'' he said. "If I'd made it through the first corner, even in second place, we had the pace to win. A lot of things then went wrong in the race - it just wasn't meant to be - but the pace was there. It was another missed opportunity.''
- APNZ