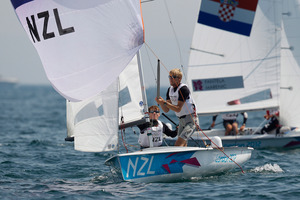 Four New Zealand sailing crews made the medal race cut at the 2013 Delta Lloyd Regatta yesterday, round two of the EUROSAF Champions Sailing Cup series being sailed in Medemblik, the Netherlands.
Two 470 crews, Jo Aleh and Polly Powrie in the women's division and Paul Snow-Hansen and Daniel Willcox in the men's, as well as both New Zealand's Laser representatives at this regatta (Andy Maloney and Sam Meech) will race for medals tonight (NZT).
Only the top six in each class will sail the all-important last race of the regatta, where each boat carries forward only their position in the fleet and any leading margins built over four days of racing are wiped.
"Pretty much it all starts again tomorrow with what is essentially a winner-takes-all final race," explains Jo Aleh. She and Powrie lead the fleet overall. "It was another blustery Medemblik day, with some lovely rain squalls to top it off. The last three races went okay, we were up there in the first race of the day but missed the huge left shift on the final beat and ended up with a sixth - our drop of the event."
"So we thought we better do a little better in the next two, which we did, with a 1, 1 to finish off with. We had some great battles with the British, and now we go into the 'final race' carrying a 1, with them in second."
In the Lasers, the medal race will feature two Kiwis, two Aussies and two local Dutch sailors.
Andy Maloney holds second place overall after placing eighth, first and fourth in yesterday's races off Medemblik, while Sam Meech earned a medal race start by finishing fifth after going into the day placed ninth overall. His results included an 11th, fifth and a race win and he joins the top six on the course, carrying forward five points.
In the men's 470, Paul Snow-Hansen and Dan Willcox advance to the medal race carrying four points after finishing the penultimate day in fourth place overall. Their results yesterday were mixed with two 14ths and a fourth.
Natalia Kosinska finished just outside the medal race cut in the RS:XW class in seventh overall, while James Turner and Carl Evans finished 10th in the men's 470.