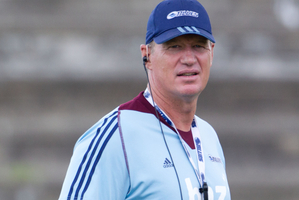 The Blues chances of making the Super 15 playoffs will be examined next by the best Australian side in the series.
Numerically, the Brumbies lead their conference, but are in a results decline which has been exacerbated by injury.
Franchise legend George Smith and midfield back Pat McCabe suffered knee injuries in the side's latest loss to the Waratahs and will not be part of the squad for Saturday's match at Eden Park.
The Brumbies are top of the conference but sliding after winning just three of their last eight matches.
That dip, and now the injuries to key players, has provoked doubts about their ability to break their eight-year finals drought.
The Blues are tucked in at sixth on the points table after being beaten and overtaken by the Crusaders in the latest round.
The winners and losers square off in this round with the Chiefs hosting the Crusaders on Friday and the Blues welcoming the Brumbies to Eden Park the following night.
"They will bring plenty of savvy to this match," Blues coach John Kirwan said. "It's like 'here we go again' because this is a huge game for us. The Brumbies under Jake White are an Australian version of an African team. They will kick to the corners and try and create enough pressure for us to make mistakes."
While disappointed with the result against the Crusaders, Kirwan said it was a reminder about the demands facing the Blues in their schedule.
The Crusaders were very effective in conditions which suited them and the Blues had been unable to contain them.
"We did not show patience under pressure and did not get a lot from the ref early, which did not help our frustration, while the Crusaders were very clean," Kirwan said.
He could not fault his side's character, but they were strangled for much of the match and did not capitalise when they put pressure on their hosts.
While the Brumbies are counting their damaged roster this week, the Blues survived other than stitches for Peter Saili, Steven Luatua and Jackson Willison.