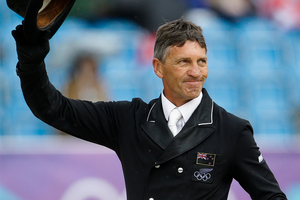 World No 1 eventer Andrew Nicholson is sitting in second and third spots at the end of the dressage phase at the Kentucky three-day event in the United States.
Nicholson, the overnight leader on Calico Joe with his 40.8 penalty point effort yesterday, this morning posted a 38 penalty point test on Quimbo.
Leading the 46-strong field is arch-rival and defending champion William Fox-Pitt (Great Britain), aboard the stallion Chilli Morning, with a 33.3 penalty point test.
Nicholson's London Olympic team-mate Jonelle Richards and The Deputy sit in 16th spot on 52.7 penalty points in their first start at the high-ranking four-star event.
Just Nicholson and Fox-Pitt sit in the thirties after the dressage, with 12 riders - including the two men on their second mounts - in the forties, leaving no room for any sort of error over tomorrow's cross country course.
Everyone is talking about the size of the course and, with just a single run-out bagging 20 penalty points, expect some changes to the leaderboard.
"It's very big, but it's fair,'' said Nicholson.
The 51-year-old is chasing the $US350,000 Rolex Grand Slam for the rider who wins Burghley, Badminton and Kentucky in succession. With Burghley already in the bag, Nicholson needs victory at Kentucky followed by Badminton next weekend.
"I'm not here just to make the numbers,'' he said. ``I'm here purely to try and win and snowball the thing along for Badminton.''
The Kentucky event is the Western Hemisphere's only four-star three-day event. It is part of the HSBC FEI Classics and features the world's best horses and riders vying for their share of $US250,000 in prize money, as well as a shot at the Grand Slam.
Tomorrow's cross country will be followed by a second horse inspection before the showjumping, which is scheduled to finish on Monday morning (NZT).
- APNZ