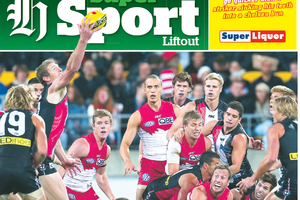 A brief look at the sports stories that are making news this morning.
In the paper
The Herald SuperSport liftout has Australian Rules on the cover, yes the read that right, following last night's clash between the Swans and Saints in Wellington. Reporter Daniel Richardson was there.
Warriors fall short of Storm stunner
Todd Lowrie said Melbourne were scared of the Warriors and the visitors gave the defending champions an almighty fright before succumbing in the final stages of a compelling match.
Streak continues
Melbourne are on a run of 15 NRL wins and closing on the Roosters' record of 19.
The Blues' road back to perdition
The Blues return to Suncorp Stadium tonight, the place where the Pat Lam era started to turn sour, writes Gregor Paul.
Last visit
It ended in a 30-13 defeat. Every flaw that would later be horribly exposed in 2012, was on view that night at Suncorp Stadium.
Chiefs seek centres of excellence
Revolving door policy is under the spotlight as the Chiefs are seeking winning combinations, writes Patrick McKendry.
Centre shifts
Bundee Aki and Tim Nanai-Williams, Charlie Ngatai and Nanai-Williams, Andrew Horrell and N-W, Aki and Richard Kahui, Kahui and Ngatai, Kahui and N-W - the second-five and centre positions have been constantly changing in terms of personnel and combination.
See also
Cricket: England tests crucial for rebuild
Netball: Magic have far less wriggle room at home
First it was the vuvuzela...
Overnight news
Rodgers slams FA over Suarez ban
Aggrieved at the severity of Luis Suarez's 10-match ban for biting an opponent, Liverpool manager Brendan Rodgers launched a robust defence of the striker Thursday and said the punishment was given "against the man rather than the incident."
He said it
"I can't help but look at it and look at the sanction that's been put on Luis for the incident, and honestly feel the punishment has been against the man rather than the incident. That's my underlying feeling," said Brendon Rogers.
France to host women's World Cup
The Women's Rugby World Cup in France next year will kick off on Aug. 1 with the final 16 days later at Stade Jean Bouin in Paris.
Going for five
New Zealand has won the last four finals.
Cipriani hit by bus
Sale Sharks first five-eighth and former England rugby international Danny Cipriani escaped serious injury when hit by a bus during a night out with team-mates.
Out with the lads
Tweets from Cipriani's team-mates indicated that they were on a 16-venue pub crawl, known locally as "The Otley Run". The former Melbourne Rebels player had his face painted and was in fancy dress at the time.