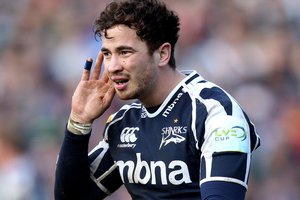 Sale Sharks first five-eighth and former England rugby international Danny Cipriani escaped serious injury when hit by a bus during a night out with team-mates.
The Premiership side said the 25-year-old suffered concussion and underwent X-rays after the incident on Wednesday evening and was kept in hospital overnight.
The player himself took to Twitter to announce that he had been discharged.
"Thank you for all the well wishes. My ribs are a bit sore. Feel like I've been hit by a bus," Cipriani joked on his account @DannyCipriani87.
British media reported that the player was on a night out with team-mates in the northern city of Leeds when he was hit.
The former Melbourne Rebels player, who had his face painted and was in fancy dress, posed for photographs with fans earlier in the evening.
His agent James Williamson said Cipriani was "quite groggy" and "does not remember much about the incident".
"We don't how long he will be out for. It looks like he has been a lucky boy."
Tweets from Cipriani's team-mates indicated that they were on a 16-venue pub crawl, known locally as "The Otley Run".
Cipriani was struck as he ran across the road, apparently having misjudged the speed of the bus.
A spokesman for public transport operator First Bus said: "A pedestrian suddenly ran into the road and collided with a First Bus travelling at a safe speed.
"The police have investigated this incident and have reported that First and its driver are not at fault.
"We understand the pedestrian is an England rugby international, and we wish him a speedy recovery."
Cipriani joined Sale on a three-year deal in February.
His club and international career have been dogged by controversy, though, particularly over disciplinary problems.
He made his England debut under Brian Ashton in March 2008 but has not played for his country since 2009, after falling out of favour with Ashton's successor Martin Johnson, while current coach Stuart Lancaster has also overlooked the fly-half.
Sale, who have fought relegation for much of the season but are now safe, have one match left this season, against Wasps on May 4.
- AFP