New Zealand will want to see signs that Taylor is returning to his old batting form in the return series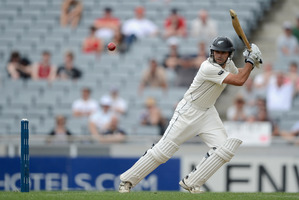 The next building blocks in the reconstruction of New Zealand as a test team are about to be put in place.
It is tempting to trot out the old line about every test tour being important, although it is nonetheless true. New Zealand's return series against England has significance attached to it that should not be played down.
Think back to the state of New Zealand's test side at the start of this year.
There had been four consecutive losses to the West Indies and India, a belting by Sri Lanka, followed by a Ross Taylor-inspired 167-run win in Colombo in his last five days as national captain.
South Africa pummelled New Zealand in two tests in January to give Brendon McCullum a "welcome to the party, pal" greeting as Taylor's replacement.
Few gave New Zealand a prayer in the three tests against England, so to come away with a drawn series - and one wicket away from remarkable test and rubber victories at Eden Park - was highly laudable.
It launched Hamish Rutherford's international career, revitalised Peter Fulton's and Neil Wagner's and gave Bruce Martin, 33 yesterday, a belated opportunity.
This series - if a dispiriting two tests can be so termed - offers an opportunity to continue the consolidation process.
From a distinctly unpromising, disheartening position a few months ago, there are signs that New Zealand, the test side, is heading in the right direction.
Anyone who was in Hobart in late 2011, Colombo last November and Eden Park on March 26, will attest to the undeniable truth that one form stands far ahead of the others in terms of its ability to stir the spirit and be remembered.
There is more to the game than T20 moneybags. Any players who didn't feel that special vibe on those three occasions is in the wrong game.
New Zealand will fly to England on Monday night with few fears that they can compete with England.
The two warmup games - and McCullum and Taylor will miss the first due to Indian Premier League obligations - will be crucial for several players, notably Martin Guptill and Doug Bracewell. Both missed the home tests through injury. Their replacements had fine series.
Guptill can't get back as an opener, at least for now. Fulton's twin tons at Eden Park and Rutherford's 171 on debut at University Oval saw to that.
Look further down the order and the most vulnerable is Dean Brownlie, who had a steady series, without a sizeable contribution. But remember he made a century five tests ago against the game's best fast attack - he should get at least first dibs.
Bracewell would have been part of the fast-medium trio along with Southee and Boult but for his ill-timed cut foot.
Wagner took 12 wickets, more than any other bowler, had boundless enthusiasm and his energy levels were impressive.
Stocky veteran Mark Gillespie will start as fifth seamer. Lord's is likely to be a three seamer-one spinner proposition. Leeds, however, has a distinctly green, four-seamer look to it, even this far out.
Perhaps more than anything New Zealand will want to see signs that Taylor is returning to his old batting self. He was out of sorts against England, clearly unhappy in the environment, as he indicated with ill-advised comments.
He couldn't buy a run early in the IPL with the Pune Warriors and is now twiddling his thumbs on the sideline in India, as is McCullum. A run-hungry Taylor is essential to the wellbeing of New Zealand's batting operation.
New Zealand can take decent strides in the right direction next month.
They can't afford the little momentum they have built to come to a juddering halt.
First-class schedule
May 4-6: v Derbyshire, Derby
May 9-12: v England Lions, Leicester
May 16-20: First test, Lord's
May 24-28: Second test, Leeds
Test tour squad
Brendon McCullum (c), Peter Fulton, Hamish Rutherford, Kane Williamson, Ross Taylor, Dean Brownlie, Martin Guptill, Tom Latham, BJ Watling, Doug Bracewell, Tim Southee, Neil Wagner, Bruce Martin, Trent Boult, Mark Gillespie.