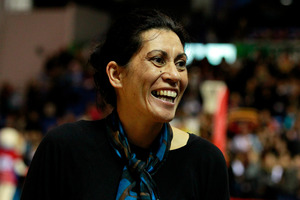 The Magic's margin for error in the transtasman league is narrowing, with the Kiwi heavyweights facing stiffer competition on the home front this season.
In previous years, a team as stacked with talent as the Magic could probably have banked the two points before they'd even taken the court against certain New Zealand sides.
Traditionally, the Magic have been able to use this period in the ANZ Championship season, which features all-domestic clashes, to consolidate their game plan and improve that all-important goal percentage, while their Australian rivals steal points off one another.
This season, however, the talent is more evenly spread with no obvious weak team. The increased competitiveness among the New Zealand teams means the Waikato-Bay of Plenty side, who are sitting third in the competition standings, can't afford to drop their intensity at any point.
"You've got to go in prepared or you'll be punished," said Magic coach Noeline Taurua.
This weekend the Magic face arguably their toughest local assignment when they take on the Central Pulse in Wellington - a side that are rich in depth, yet surprisingly inconsistent.
The Pulse promised much before the start of the season, with the recruitment of former Steel stars Donna Wilkins and Liana Leota.
With the Mystics, who have made the playoffs for the past two seasons, on a downhill slide following the loss of several experienced players, the Pulse are considered New Zealand's next best hope to make the finals behind the defending champions.
Ironically, the Pulse are the only side to lose to the Mystics all year, after the Auckland side pulled off a determined comeback to topple Robyn Broughton's team in extra time last week. That one-goal loss could prove costly. Sitting sixth on the ladder with a two from five record, the Pulse will be nervous as they approach a difficult stretch of games. Over the next three rounds they will meet the Magic twice, with a trip to Melbourne to take on the star-studded Vixens scheduled in between.
Their patchy start will only make the Pulse more dangerous on Sunday, according to Taurua. "They won't be sitting where they need to be, or where they think they should be, but they've got the personnel and the foundation to do really well," she said.
"If they can connect for the full 60 minutes they can take anyone down and we're fully aware of that."
The Pulse felt they were hard done by in last weekend's loss to the Mystics, with a late contact call on captain Katrina Grant giving her Mystics' opposite Maria Tutaia the opportunity to send the match into overtime. The Wellington side can't blame the umpiring for letting their healthy halftime lead slip though, and the test for them this weekend will be to channel their frustration into the right areas.