The Blues return to Suncorp Stadium tonight, the place where the Pat Lam era started to turn sour, writes Gregor Paul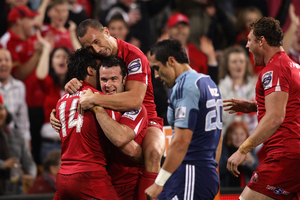 If brutal honesty wasn't so frowned upon, those Blues players who made the side's last trip to Brisbane in 2011 might claim it was the beginning of the end of the Pat Lam era.
As it is, they do enough for that conclusion to be reached anyway. It was a night that began with such promise, the first semifinal appearance for the Blues in four years.
It ended in a 30-13 defeat. Every flaw that would later be horribly exposed in 2012, was on view that night at Suncorp Stadium.
"It was a poor effort in the first half," says Blues centre Rene Ranger of that game in 2011, "and then a pretty shocking effort in the second. I don't really know how to put this ... two years ago not everyone was agreeing with each other".
If there was a strategy for that night, no sense of it materialised. The Blues ran aimlessly from deep, their lineout was a disaster, they were cleaned out at ruck time and their defence was fragile - easily breached by the string-pulling Quade Cooper.
It was tempting to call it tactically naive, but that would suggest much of what the Blues did was planned when really they played off instinct alone.
"Thinking back, we had a plan of what we wanted to do, but we also had a handful of individuals who didn't play very well that night," recalls flanker Luke Braid.
Coach Lam was bemused by fulltime. He talked of players drifting off script, of not doing what they had trained to do. That collapse wasn't the result of the Blues being crushed by the pressure of the occasion.
Far from being an apparition, that implosion in the semifinal was the point where the rot could no longer be contained, could no longer be hidden beneath the surface. It was a portent of what was to come: the Blues were not set up to win titles, or even get close. That much became undeniable when barely halfway through the 2012 season, Lam was out of a job.
The board had lost patience with his lament that the players weren't listening. They couldn't see that the team had a defensive structure, or a playmaking general, or solid ideas about territory and possession.
Heading back to the scene of the crime tonight to play a Reds team that are once again considered to be the best in the competition, should the Blues feel a sense of trepidation?
Victory might be beyond them, but a bleak night is not being forecast. The biggest difference two years on says Braid is the basic understanding of the game-plan and the conviction the players feel for it.
"When we look at the reasons why things don't work it is because we go out of our systems. You can sometimes have teams where you go out of your system and still pull it off because you have individually brilliant players.
"When we stick to the system then we can use our guys who have individual brilliance within that system. The number of coaches we have this year they make things basic, really simple. It is easy to identify what you are meant to be doing.
"Some coaches can get a bit carried away and give you a little bit too much to think about but the picture is made really clear for us and that is why we are going so well."
Nowhere has that simplification been more keenly felt than in the critical 8-9-10 axis. For years - since they last won the title in 2003 - the Blues have lacked quality individuals in these key positions or failed to build a cohesive unit.
Peter Saili wouldn't rate among the world's great No8s but he's been a revelation this year, focusing on nothing but carrying the ball across the gainline. His conservative portfolio is giving maximum returns, which is also true of Chris Noakes at first five-eighths.
Piri Weepu is adding genuine quality to the mix and the Blues, unlike in 2011, now have a solid spine that understands their job is to put the team in the right areas of the field and leave it to others to provide the magic.
There are no blurred lines the way there were in 2011, no sense of players pulling in different directions.
"JK [coach John Kirwan] is giving us a licence to play football, but it is all about getting the balance right between playing for territory and having that running game," says Ranger. "If we stick to our game-plan and our structures then we will get the results."
Just as that defeat in Brisbane signalled the end of an era, victory tonight would do plenty to suggest the Blues are at the beginning of one under Kirwan.