... now, it's the caxirola: World Cup to feature specially designed percussion instrument.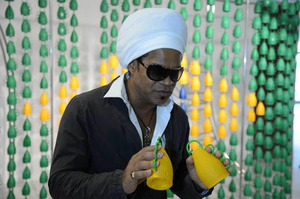 Thought you'd heard the last of monotonous drones blasting out from the terraces? Think again.
Following the international sensation of questionable musical value that was the vuvuzela - the multi-coloured, two-foot long plastic horn that became such a hit with football fans at the 2010 World Cup in South Africa that they were subsequently banned - the caxirola has been unveiled as the aural stimulant of choice at next year's tournament in Brazil.
This time the instrument, which has been created in a collaboration between the Brazilian musician Carlinhos Brown and the country's ministry of sports, has been carefully designed to sound considerably less grating.
Unlike the vuvuzela, which has historical cultural significance in South Africa, the caxirola has been designed especially for use in stadiums.
A yellow and green percussion instrument, it makes a rattling sound when shaken, not dissimilar to the South American "rainstick".
Made from recycled plastic, the noisy implement will be handed to fans attending the Confederations Cup in June, the country's unofficial dress rehearsal for the 2014 World Cup.
The President of Brazil, Dilma Rousseff, said: "It is an object that has the ability to do two things: to combine the image with sound and take us to our goals."
A Fifa spokesman promised the instrument would "add to the fan experience" at the tournaments and help "create a unique Brazilian atmosphere in the stadiums".
News of the vuvuzela replacement may come as a relief to armchair football fans around the world following complaints that the South African instruments drowned out television commentary during some games in the 2010 tournament.
Measurements put the sound of the vuvuzela at 127 decibels, just short of the sound level generated by a jet taking off from an aircraft carrier at a distance of 15m.
Portugal and Real Madrid star Cristiano Ronaldo said the noise from the instruments had affected the concentration of his teammates while the captain of the French side, Patrice Evra, blamed a goalless draw with Uruguay on a vuvuzela cacophony.
Despite calls for an immediate ban on the instruments during the tournament, the South African authorities steadfastly refused the demands, insisting that it was "ingrained in our history".
A World Cup spokesman said at the time: "Only a minority are against vuvuzelas. You either love them or hate them. We in South Africa love them."
The instruments were subsequently banned by UEFA and Fifa.
- The Independent