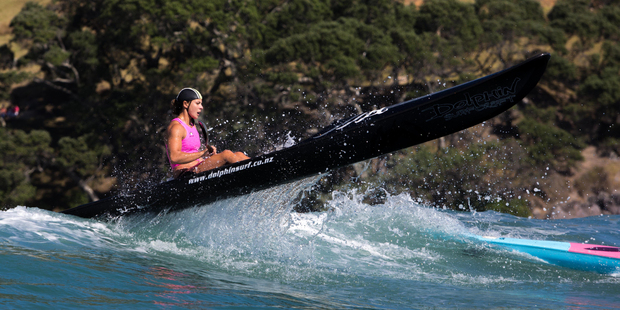 Olympic champion Lisa Carrington picked up another national title on an extraordinary first day of the New Zealand surf lifesaving championships in Mt Maunganui.
With a rising swell and big surf predicted for the weekend, organisers took heed of previous State nationals and packed the first of three days with as many events as possible, with all the canoes and half the boat action already completed.
The surf ski competitors also had a packed day and, in the thick of it, Carrington comfortably qualified for the open women's ski race final and later joined Mt Maunganui teammate Jaimee Lovett to win the open double ski.
Carrington's fellow Olympic kayaker Steven Ferguson also qualified for tomorrow's men's ski final, while Titahi Bay pair Marty McDowell and Sam Blyde re-enacted their 2009 triumph with victory in the open men's double ski.
"This is the first time we've paddled together since we won in 2009 and we haven't done any training but it just came together," McDowell said. "We didn't seem to lose any timing out there which was lucky because it was a pretty strong field out there."
Australian Eliza Smith took home the open women's surf race final, racing for the Omanu club, finishing ahead of Kirsty Wannan (Piha) and Papamoa's Natalie Peat, though Peat gained some satisfaction by winning the under-19 women's surf race.
The canoe arena got through a massive day, with all long-course titles decided in the morning and short-course in the afternoon, an exercise which normally would've taken three days.
Taylors Mistake Surf Lifesaving Club won the open women's long-course, while fellow Christchurch club Waimairi swept both the long and short-course in the men's division for the second year in a row. Team members Carl Righton and Mark Cresswell picked up their 10th canoe gold medal in 10 years, while it was also an early birthday present for team veteran Richard Phillips.
Down the road closer to Omanu Beach, the surf boat competition took advantage of a much fairer beach layout, with short-course titles also decided. Reigning national champions Piha benefited from a late broach by Orewa to win the men's title, while fierce rivals Titahi Bay missed out on the final completely.
"We got smashed by a few waves on the way out - a few monsters came out of nowhere and set us back a bit but we managed to settle and get back into our work," crewman Ben Richards said. "We managed to row down a little bump which got us ahead of Orewa and the rest is history. It shuts up a few critics and it's definitely pretty satisfying."
The Omanu women's crew were confirmed as national series winners yesterday and capped that announcement in the best possible way, grabbing their first national title together in the short-course final.