Triathlete vows to compete at Commonwealth Games after being cut from elite squad.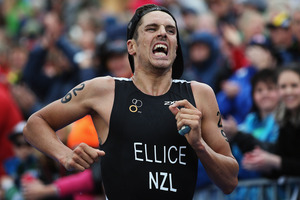 Clark Ellice has been cut adrift by Triathlon New Zealand but is determined to go it alone to pursue his dream of competing at next year's Glasgow Commonwealth Games.
Only five days after his third place at the inaugural Ironman 70.3 Auckland in front of some of the biggest names in the sport, it was announced that Ellice had failed to make Triathlon NZ's high performance squad of 14 athletes, meaning he will no longer be funded by the organisation. It is understood that the annual funding is about $30,000 per athlete.
Only three athletes were selected for the high performance "podium" category - Andrea Hewitt, Kate McIlroy and Ryan Sissons. The other 11 fell into the development section.
Ellice, a reserve behind Sissons, Bevan Docherty and Kris Gemmell at last year's London Olympics, knew he wasn't high on Triathlon NZ's list of priorities but the announcement still left a bitter taste. The 30-year-old said he had a lot to offer younger triathletes but would not be welcome at New Zealand's training base in the south of France.
"I got my guidance and my accelerated learning from the likes of Kris and Bevan and Hamish Carter and I'm a senior athlete that's quite willing to help the likes of Bryce McMaster and the younger guys coming through," he said. "If they even let me stay at the base, I'd be quite happy to help with mentoring ... but to completely cut me off, it's just another bone of contention, really."
New Triathlon NZ high performance manager Graeme Maw conceded his organisation had had to make several tough calls. Nicky Samuels, 35th at London last year, also missed out.
Ellice, from New Plymouth, has already ruffled feathers at Triathlon NZ - three years ago he was stood down for six months for writing what were considered overly aggressive and opinionated emails and Facebook postings.
He said he had no problem with Sissons being considered New Zealand's No1-ranked male triathlete after the retirement from the ITU series of Docherty and Gemmell. Sissons is ranked in the world's top 20 compared with Ellice's world ranking of 30.
It was the feeling of being left out in the cold which irked, Ellice said, adding it was up to him to prove himself on the ITU circuit and increase his world ranking.
Ellice's Auckland podium finish behind Australian Christian Kemp and Docherty in his first ever half-ironman distance on January 20 had earned him precious prize money and he will continue to race for money in the American 5150 non-drafting circuit. An eighth-place finish at a 5150 series event in Des Moines last year reaped him $25,000 and a bike and wheel sponsor.
Ellice will enter the ITU series, which starts this year in Auckland on April 6-7, with plenty to prove. In order to increase his speed he is upping his swim mileage and racing in cycling velodromes. He will fine-tune his running at a camp in March.
"My attitude has changed a lot after being Olympic reserve," he said. "You've only got a limited time. There's more of a sense of urgency to make it happen now. With that you're fuelled with a different mentality and urgency in racing and I've already started to see that."
Ellice said moving to longer-distance events was an option, but added: "You have to listen to your heart and my heart says Commonwealth Games and Olympics."
Career highlights
2012
8th, 5150 Olympic distance race Des Moines, Iowa
2009
2nd, Oceania ITU Cup, New Plymouth
2008
1st, national sprint championships, Taupo
This year: Jan 3
1st, Contact Tri Series race, Whangamata
Jan 20
3rd, Ironman 70.3 Auckland
-APNZ