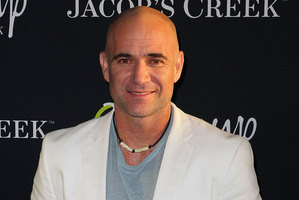 When Andre Agassi hands over the trophies for the men's final at the Australian Open tonight, you could be forgiven for looking round for his father.
In Auckland this week, before he headed to Melbourne, Agassi transfixed a huge room of people at the Langham Hotel with the intensity and depth of his insights into his life and that of his father - former boxer and the most fiercely committed of tennis parents, Emmanuel 'Mike' Agassi.
In his best-selling book, Open, in which Agassi senior is painted harshly as the driving force behind Agassi's hatred of tennis and his resentment and puzzlement at his early lost life. Agassi told two stories in Auckland which demonstrated that, while he recognises the role his father played in his darker days, he has come to terms with it and him.
They were stories we might all tell about our parents - on the one hand shaking your head with bemusement at the gulf that can be the generation gap; on the other, a tacit acknowledgement that is where you come from. Most of Agassi's stories came from the book - like the hilarious tale of the first meeting between Mike and his future father-in-law, Peter Graf, which descended into a boxing match where Graf thought he was shadow-boxing but an offended, intense Agassi sought a knock-out.
But it is difficult to remember a speaker holding such a large crowd so still. Hear a pin drop? You could have heard a cobweb flutter.
He told how, after the book was written but not yet published, he tried to engage his single-minded father (who'd said he wasn't interested in reading it) in a dialogue which might shed further light on the way their lives had unfolded. He asked Mike if he'd change anything. He was astonished when his father said he would.
Agassi had to stop his car and focus on the mobile phone. What would he change? "I wouldn't let you play tennis," came the reply. "You would have played baseball or golf."
Why, a gobsmacked Agassi asked? "You can play longer and win more money," said father. Agassi mock-dropped his head into his hands. The implication was plain - his father had learned nothing. However, Agassi also said that, if you could not develop the perspective that allowed you to understand other people's thoughts, wants and needs, you could at least be clear. "My father is nothing if not clear."
Just how clear was illustrated by Mike's rare appearance at one of his son's matches - one of his key meetings against great rival Pete Sampras. Mike, who preferred not to sit in a stand, was reluctantly ushered to a seat where his son saw his face watching him over Sampras's serving shoulder. Sampras was 15-40 down and preparing to send down a thunderbolt when a mobile phone fired off.
It rang and rang. Sampras went through his pre-serve routine again. Ready to serve. The phone went off again. Sampras halted. He swung round and said: "Sir, would you like to answer your phone?"
At the other end of the court, a horrified Agassi realised the culprit was his father.
Mike Agassi, instead of being embarrassed returned serve. "It's my phone. I'll answer it when I feel like it. Kiss my ass."
Sampras turned round to Agassi junior and mimed: "That's your dad!"
Indeed it was and, in the midst of all the personal insights, the bared soul and the soul-searching in Agassi's book and his remarks to the crowd at the Langham, it was clear that at least some of that single-mindedness and defiance would be needed to rise from 141 in the world to No1, as Agassi did in his ultimate phase of tennis self-determination.