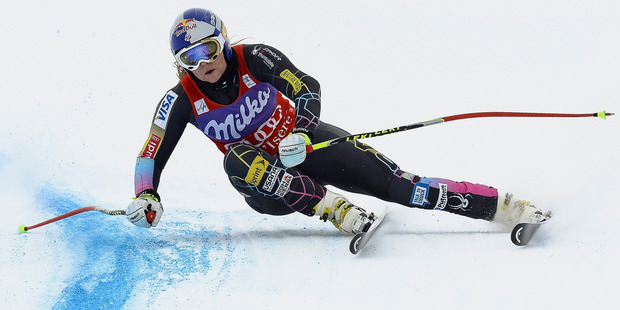 Lindsey Vonn is taking an unexpected break in the middle of the World Cup ski season, saying she has yet to fully recover from an intestinal illness that landed her in hospital last month.
After a weekend of disappointing results at a World Cup meet in France, the four-time overall champion said on her Facebook page that she needs to get her full strength back before returning to the slopes after New Year's. Vonn stayed two nights in a hospital in Vail, Colorado, last month after suffering from severe intestinal pain.
"After talking with my family and consulting with my coaches and trainers, I have decided to take a break from the World Cup circuit," Vonn said. "Since my intestinal infection last month, I have been struggling with my energy and strength.
"I believe that some time off the mountain will help me regain the physical strength that I require to compete at the level that I demand from myself."
US women's head coach Alex Hoedlmoser said the timing of Vonn's return "depends on how she's feeling and exactly what her condition is ... We want her back at full strength".
Hoedlmoser said Vonn will miss this week's slalom and giant slalom races in Are, Sweden.
The following races on the schedule are also technical races in Semmering, Austria, on December 28 and 29.
Vonn won three consecutive speed races at Lake Louise, Alberta, this season, and also took a super-G win in St. Moritz, Switzerland, on December 8 for her 57th career World Cup win, moving her within five of record-holder Annemarie Moser-Proell on the all-time list.
But she fared poorly in both of her races last weekend in France.
-AP