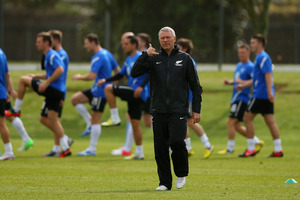 He won't have top defenders Ryan Nelsen and Winston Reid for the World Cup qualifier against Tahiti in Papeeti on Saturday, and the complications for All Whites' coach Ricki Herbert don't stop there.
Herbert, who is also the Wellington Phoenix coach, will miss his club side's away match against the Melbourne Heart on Sunday afternoon.
He plans to watch the match by himself at the All Whites' hotel in Christchurch on Sunday, as the national team prepares for Tuesday night's return encounter against Tahiti at AMI Stadium.
"There are no flights,'' he said of his inability to make it to Melbourne. "Trust me, I've searched pretty hard for it. It will be a unique position to be in.''
Herbert has accepted that he will miss the Phoenix match, just as he is resigned to the fact that he won't have the services of Nelsen and Reid, who were due to leave London tomorrow morning following a delay due to the injuries they picked up while playing for their Premier League clubs.
Having received treatment for knee and back injuries respectively, Nelsen and Reid won't arrive in New Zealand in time to travel to Tahiti and will instead go to Christchurch to prepare for Tuesday night's return match. The All Whites fly to Papeete tomorrow.
Nelsen's knee injury has been assessed by QPR medical staff after he received a knock at West Bromwich Albion, while Reid suffered back spasms in West Ham's loss to Arsenal. Herbert said he was expecting both to be available for the return match against Tahiti.
The missed Tahiti trip means Christchurch-born Nelsen will not celebrate his 50th All Whites' match in the city, a blow to him and New Zealand Football, who had based a lot of their marketing around the milestone.
"The most important thing is that they do join the group and they're committed to do that,'' Herbert said.
"We won't bring any other players in. We've got 16 minimum that will travel to Tahiti. We can only use three subs anyway. I'm comfortable with the depth in this squad.''
Herbert said he hadn't yet decided on his reshuffled defensive alignment but there is a possibility he could play a back four consisting of Ivan Vicelich, Ben Sigmund, Tommy Smith and Leo Bertos. Smith is likely to be the captain in Nelsen's absence.
In another twist, Herbert said he thought it was unfair he request Phoenix defender Michael Boxall join the All Whites' squad as cover.
"I think the club's made a pretty good contribution to this group,'' he said. "That would be a completely unfair request ... I guess I feel that from both sides, obviously.''
The Phoenix have provided to the All Whites both goalkeepers, Glen Moss and Mark Paston, plus Sigmund, Bertos, Tony Lochhead and Jeremy Brockie.
Phoenix striker Benjamin Totori is also away on international duty for the Solomon Islands.
The All Whites won both of their matches against the Solomon Islands in the September international window.
- APNZ