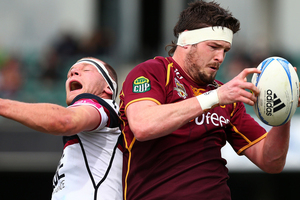 North Harbour 17
Southland 27
North Harbour are on the verge of setting a new record. It's not one they will enjoy being in possession of but it's a reflection of how far they have fallen as a province.
The North Shore outfit are still searching for their first win of the season and it's difficult to see where it will come from. With three matches remaining, their chances of success in any of of those are slim, given they take on Premiership outfits Wellington and Auckland as well as Tasman in Nelson.
No team since the ITM Cup came into existence in 2010 has ever gone winless.
For a while today they might have actually fancied their chances. They controlled the opening half, admittedly with a stiff breeze behind them, on the back of a dominant scrum, nearly 75 per cent of territory and some remarkably patient rugby.
They scored a good try to Pita Ahki, when he slipped through a weak Tim Boys tackle, and looked threatening when they switched the angle of attacks.
But they didn't score enough points in the first half, often due to some very good Southland defence, and also conceded a soft try of their own when Boys made amends down the wing.
Southland haven't enjoyed a vintage season themselves, winning only their first game last week when they dismantled Hawkes Bay 35-7, but they knew how to exploit the worst team in the competition.
In the second half they played the game in the right part of the field and took advantage of Harbour mistakes or indiscretions. First five-eighths Scott Eade kept banging over the penalties and Jimmy Cowan scored when he latched onto a free ball at the back of a North Harbour scrum.
It was the highlight of an otherwise ordinary display from Cowan in his 27 minutes on the field. His first three minutes included a kick charged down, dropped ball, poor box kick and forward pass. Even worse was to come when he tried a reverse pass from a lineout on halfway that Harbour pounced on and scored through Bryn Hall.
It put needless pressure on his side and saw Harbour narrow the gap to 24-17 with 10 minutes remaining.
Harbour tried desperately to find another converted try, and looked threatening on a couple of occasions before making crucial errors, but Southland did enough to hang on.
Harbour's record beckons.
North Harbour 17 (Pita Ahki, Bryn Hall tries; Luke Devcich 2 cons, pen) Southland 27 (Tim Boys, Jimmy Cowan tries; Scott Eade 5 pens, con). HT: 10-8.
- APNZ