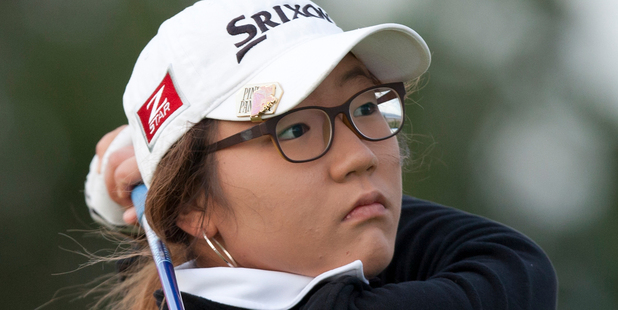 World No1 amateur Lydia Ko remains in contention at the British Open at the Royal Liverpool Golf Club after carding a one under par 71 in round two.
The 15-year-old from Auckland, who opened with an even par 72 to be in a share of 12th place, climbed to a share of ninth and to also be the leading amateur heading into the third and fourth rounds tonight NZT.
Ko will begin round three eight shots back from the leader South Korean Jiyai Shin who shot the round of her life, an eight under par 64, to lead the championship by five shots from compatriot Inbee Park.
The New Zealand representative was happy to improve in round two as the conditions were just as trying at Hoylake.
"It was kind of a rough start, two over after two, that wasn't the best start that I imagined,'' said Ko.
"But I hung in there and I made birdies on four and five which made it a little easier and it also meant that I didn't owe any shots.
"So overall it was pretty good. My goal was two under and one under is only one shot off and it was getting windy in the end and I hung on so I am pretty happy.''
Ko felt the conditions were about the same around as round one and is hoping for better conditions on the final day where the field of 50 players and ties will play 36 holes.
The key to breaking par on day two was her short game.
"My putting was much better. I didn't miss anything within three feet and I missed two from that distance on Thursday so it made it much easier. My confidence when I was putting was still there till the end. I made a few mistakes with my woods but my short game held up to that so that was ok.''
At only 15, playing two rounds of championship major golf in a day is quite an ask. Ko is mindful of pacing herself.
"It will be very energy consuming so I will have to get my energy right up there. It's never easy playing 36 holes when you are concentrating so much for all the shots. I will just have to see and not do anything silly so my energy will still be there.''
The US Amateur champion has played the back nine at Hoylake in two under par this week and that is where she aims to do her scoring.
"I personally find the back nine easier. I shot one under par there on Thursday and then one under again today so it is the easier nine. There are three par fives on the back nine compared to only one on the front so it makes a big difference. You can see by Jiyai Shin she made many birdies on the back nine so overall the back nine is much easier.''
Ko was one of four amateurs who made the cut and will now be battling it out over the last 36-holes to claim the Smyth Salver awarded to the leading amateur.
She is currently on one under par 143 and two shots ahead of English Curtis Cup player, Holly Clyburn, who eagled the last for a 73 and a one over par total of 145.
The youngest winner in golf history is looking to beat the record of Lynnette Brooky who as the only Kiwi amateur to play the event back in 1993 finished tied 37th at Woburn and the fifth placed amateur.
She wants to keep improving in the third and final round.
"I reduced one shot from the first round to the second round so maybe reduce one more and then one more and that would be three under and four under. I am going to try my best and I can't help it if is a galling windy day out here.''
- APNZ