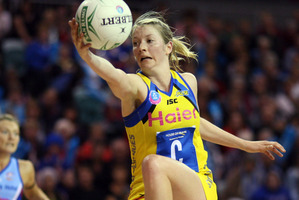 Camilla Lees and Leslie Rumball have juggled medicine and sport
Camilla Lees didn't expect to be embarking on her first Australian tour as a Silver Fern with one of her childhood heroes.
Already delighted to get her first "proper" call-up to the national side, when she learned former Ferns captain Lesley Rumball would be the team doctor for the series, beginning in Melbourne tomorrow, Lees said she "did cartwheels".
More than just an on-court inspiration for Lees, the young midcourter hopes to emulate Rumball's achievements off the court as well. Lees graduates from medical school at the end of the year and is hoping to juggle the demands of being a house surgeon with an international netball career.
Now a mother to 5-year-old Henry and Lily, 3, family and other work commitments means Rumball will serve as the team doc for only the three-test series, and Lees clearly intends to make full use of the 108-test veteran while she is around.
The Pulse midcourter was the first player to bound up to Rumball when she joined the team in camp on Thursday.
"She's obviously been a huge role model to us so it's awesome to have her in the team," said Lees.
"She has been through what I'm hoping to go through, so I'll definitely be picking her brains to find out tips on how she juggled things and managed two successful careers."
Clearly embarrassed at the suggestion that she would be an inspiration to the youngster, Rumball said she too was a little bit star struck coming in to camp.
"For me going through, Wai (Taumaunu) was somebody I looked up to, so there are lots of little parallels I guess."
Rumball, who has both physiotherapy and medical degrees, has come back in to sports medicine in recent years after initially considering a career in orthopaedics. After a couple of years in the UK, and one year at the Australian Institute of Sport in Canberra, the Rumball family returned to Christchurch in early 2011 "just before the earthquake".
She is now working alongside All Blacks doctor Deb Robinson at Sports Med Canterbury, where she is completing further training.
Rumball said she hasn't given much thought to whether she would eventually like a more permanent position with the Silver Ferns.
"I'm not really sure, and it seems really strange to say that because I've gone through my life setting goals and looking ahead, but at the moment all I can really focus on is completing my fellowship. I've got a young family so that is the priority, so maybe when they are a bit older it is something I'll look at," she said.
Lees' medical studies have restricted her opportunities with the national team for the past few seasons.
The rookie's three previous test appearances came against England at the beginning of 2011, when she was called in as late injury cover.
This time, she feels as if she has made it off her own steam.
"I've been working towards it for so long, and I truly feel like I deserve a place now."
The 23-year-old is expected to be thrust straight into the starting line-up for tomorrow's opener, with the Ferns extremely light in the midcourt following the losses of Liana Leota (overseas), Joline Henry (pregnant) and Temepara George (retirement).
Given the Ferns boast hugely experienced shooting and defensive ends, many believe how well the new midcourt gel will be key to New Zealand's success in the Constellation Cup series. But Lees said she was trying not to let that sort of pressure have a negative impact.
"I just want to make the most of it, I'm really excited," she said. "I'm trying not to get nervous about it, I just want to enjoy it and not get too daunted about the whole experience."
The lean midcourter - or "scrawny" to use Lees' description - has been working hard to build her strength over the past couple of seasons to ensure she can cope with the physicality that is part of the modern game now.
She said she has seen improvements with her strength in the air, and body balance when she is being jostled by over-zealous defenders on the circle edge.
But for all the experience she has had in the transtasman league, Lees admits international netball will take another big step up.
Is she ready for it? It's best to consult the expert for the answer to that.
Says Rumball: "The fact that she has gone through medicine and can perform at a really high level carrying that other burden, you know that she will respond well to the pressure (of playing Australia)."
Camilla Lees
Born: 27/03/1989, Pukekohe
Team: Central Pulse
Positions: WA, C
Caps: 3