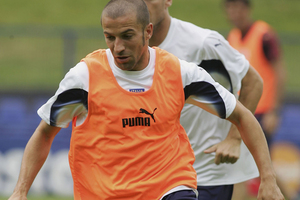 Sydney FC has received an instant boost from its signing of Italian football great Alessandro del Piero, with huge numbers of fans logging on to its ticketing websites and fan forums on Thursday.
So great was the interest that the A-League club extended its deadline for club membership renewals by 48 hours, hoping to cash in on the arrival of the former Italy and Juventus great and recoup some of the reported $4 million it will pay the 37-year-old over two seasons.
Football Federation Australia chief executive Ben Buckley said Del Piero's signing would boost the A-League's global image and accelerate the growth of the competition.
"Undoubtedly, this signing will have an immediate impact on attendances, membership, TV ratings and corporate support for the club and the A-League," Buckley said. "All clubs will benefit when Alessandro comes to town.
His stature in international football is well known, but it's his desire to put back into the game and create a legacy in Australia that's so impressive."
For now, Sydney fans will circle Oct. 13 on their calendars Del Piero's first home match, against Newcastle. He will make his A-League debut a week earlier in New Zealand, against Wellington Phoenix.
Del Piero is expected to arrive in Australia in about two weeks
"For the next two years I suppose I can say that I'll be Australian," Del Piero told a news conference Wednesday in Turin, Italy. "I'm starting a splendid and fantastic adventure. I couldn't have chosen a better situation or a better place."
The deal will make Del Piero the highest paid athlete in Australia's four football codes, including rugby league, rugby union and Australian Rules. He reportedly turned down offers from English Premier League clubs Liverpool and Southampton and was also linked with moves to the Middle East, China, Argentina, the United States and Switzerland.
"We touched all the continents," Del Piero said. "This choice is far away in terms of kilometers but it's very close in terms of philosophy. ... I can't wait to go and discover a country that everyone describes to me as fantastic."
The A-League, which has had two teams fold in the past two years due to financial problems and dwindling attendance, needs Del Piero as a draw card.
He was a member of Italy's 2006 World Cup-winning team and scored a club-record 286 goals in all competitions over 19 seasons with Juventus. He managed just five goals and only two in Serie A last season in limited playing time.
"We're honored to have Alessandro sign for Sydney FC," club chief executive Tony Pignata said, sitting next to Del Piero at a press conference in Turin. "It's a momentous occasion."
Pignata added that Del Piero will wear his familiar No. 10.
Sydney chairman Scott Barlow called the signing a coup for the club and Australian football.
"This is for all Australian football fans," Barlow added in a statement. "Alessandro Del Piero is a global icon of the game and we are honored he has chosen Sydney FC, ahead of many other options, as the club where he will begin the next chapter of his illustrious football career."
The A-League's other past marquee signings have been formerly England-based Trinidad and Tobago star Dwight Yorke, who also played for Sydney in 2005-06, and former Liverpool forward Robbie Fowler, who played with the now-defunct North Queensland team and Perth Glory from 2009-11.
Sydney winger and Australia international Brett Emerton, said the Italian player's impact will be much greater than Yorke and Fowler and could start a shift of more star players to Australia.
"I can honestly say that when I left Blackburn for Sydney FC last year, I didn't expect to be playing alongside someone like Del Piero," Emerton said in News Limited newspapers Thursday.
"You only have to look at the caliber of clubs internationally that were chasing him to realize that, even at 37, he is still a world-class striker."
The Sydney Morning Herald featured the signing as the lead item on its sports web page: "Ciao! $4m Del Piero signs for two years."
In The Australian newspaper, a headline said: "It's true, Del Piero signed, sealed."
"The only question I asked was if we can win, and they responded 'yes,"' Del Piero said. "I'm not going there for a vacation. I'm going there with total dedication."
Juventus announced early last season that it would not renew Del Piero's contract.
"It will be a big change for me after 19 years with a team which I will continue to support," Del Piero said. "I've done all I could have done here and there couldn't be a better choice for me."
While without a club over the past few months, Del Piero has continued to train. He pledged to be ready for Sydney's season opener at Wellington.
Sydney did not qualify for the Asian Champions League this season. It was the inaugural A-League champion in 2006 and won again in 2010.
Things were so busy for the club on Thursday that staff didn't have time to update a fan poll on the club website asking which player had been the best off-season signing. The list included six players, with Del Piero not among them.
-AP