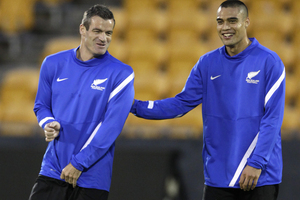 The All Whites have their Richie McCaw and Dan Carter back and they will hope it means a similarly impressive run of results as the All Blacks.
The men in black have gone 12 games unbeaten and, while that figure is unrealistic for the All Whites - they might even come close to winning their own World Cup if they achieved that - the return of Ryan Nelsen and Winston Reid is a significant boost to a side looking to erase the memories of their failed Oceania Nations Cup campaign.
"If you have Winston and Ryan out of the side, it's no different to the All Blacks without Richie McCaw and Dan Carter," coach Ricki Herbert explained. "We are a nation that panics when those two don't play for the All Blacks. Well, why should we be any different? They are very, very good players playing at the highest level of the game."
Nelsen (QPR) and Reid (West Ham) are the only two Kiwis playing in the English Premier League and both missed that tournament in Honiara but are among the 20-man squad who have assembled in Noumea to take on New Caledonia on Friday night.
They will join Tommy Smith in a back three, with Herbert sticking with the 3-4-3 formation that has been a feature of the national side since the World Cup playoff with Bahrain in 2009.
Ivan Vicelich and Tim Payne are vying for one spot alongside Michael McGlinchey in central midfield and Mark Paston is expected to start in goal but it's up front where the biggest conundrum lies, with Shane Smeltz, Chris Wood, Jeremy Brockie, Chris Killen, Marco Rojas and Kosta Barbarouses all competing for a start.
Brockie has sewn up one position after his recent exploits in India, where he scored eight goals in four games for the Wellington Phoenix on their pre-season tour, but the late arrival of both Smeltz and Killen has clouded the picture.
It's a game of immense importance for the All Whites for a number of reasons. Not only is it the start of the next phase of World Cup qualifiers - the top four Oceania teams play off home and away to find the team to take on the fourth-best side from North and Central America for a spot in Brazil in 2014 - but it is also the first game since the Nations Cup.
Considerable pressure was applied on Herbert after the Nations Cup and that will only ramp up if the All Whites struggle against New Caledonia and then the Solomon Islands in Auckland on Tuesday.
"I think you are always under the spotlight," Herbert said. "I don't think that is going to change if you are winning or losing. That's the nature of the industry I am in.
"I'm giving one million per cent into [this job] and it was no different at the Nations Cup even though people wanted to find ways to say I wasn't. I have always be incredibly dedicated to doing this job and I will for as long as I can to the best level I can. The task I have is to take the team through to the next World Cup and that starts on Friday.
"We need to be ruthless at home and clinical away during this campaign if we are serious about reaching consecutive World Cups. A winning start is vital as we don't want to open the door for anyone else to build momentum."
New Caledonia will field a similar team to the one that beat New Zealand 2-0 in the Nations Cup semifinal and up front they have the dangerous combination of Oceania Player of the Year Bertrand Kai, Georges Gope-Fenepej and Jacques Haeko.
But the All Whites have McCaw and Carter back.
Possible All Whites team to play New Caledonia in Noumea on Friday (7pm NZT): Paston; Reid, Nelsen (c), Smith; Bertos, Vicelich, McGlinchey, Lochhead; Brockie, Wood, Smeltz.
- APNZ