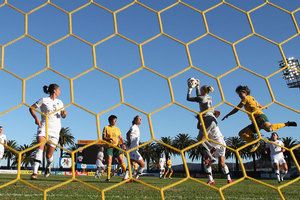 The Football Ferns' hoodoo against Australia has continued in Wollongong as two Sarah Walsh goals sealed a 2-0 win for the hosts.
Walsh struck her 30th and 31st international goals, one in each half, as the Matildas extended their unbeaten run against the Ferns to 24 matches, including 23 wins and Sunday's 1-1 draw.
The defeat also ended New Zealand's record-equalling nine match unbeaten run dating back to February.
New Zealand coach Tony Readings made five changes from the first test including leaving New Zealand's four most capped players - Hayley Moorwood, Abby Erceg, Ria Percival and Jenny Bindon - with close to 300 caps experience between them on the bench.
With an eye on the Olympic Games, he instead gave others a chance to push their claims for an 18-player Olympic squad named on Friday afternoon.
He was already missing another 150 caps worth of experience through Ali Riley, Kirsty Yallop (both unavailable) and Rosie White (injured).
"There's a lot of experience among six players that are probably starters for us at an Olympic Games," said Readings, "but we've said that it'll take every player in that Olympic squad of 18 to achieve our aim in London."
"We wanted to do three things today; win the game, give game time to players who need it and take a look at a range of players as we decide the shape of our Olympic squad.
"We didn't get the result today but we've been focussed on performances at this stage of the build up and the performance today was just as good as Sunday. We'll learn a lot from it and if losing a game today helps us win in July and August we'll take this one on the chin."
Readings said he was looking forward to analysing footage of the match to see what could be gleaned but said being more clinical in front of goal was already a 'work on.'
"I think we can learn a lot from the Aussies ruthlessness.
They didn't have nearly as much of the ball as us or create as many chances but when the chances came they took them and we'll need that trait against the teams we face at an Olympic Games."
Anna Green and Amber Hearn both struck the woodwork in the first half while Sarah Gregorius missed the follow up from Green's shot and later Hearn was unable to convert from a similarly close range.
Hayley Moorwood who scored in the first test and also during the series win over China last week had a header cleared off the line in the second half while New Zealand also had a strong penalty claim for handball waived away.
The Football Ferns have drawn Great Britain, Brazil and Cameroon at the Olympics beginning on July 25 in Cardiff against the hosts.
International Series - Match Two
Australia 2 (Sarah WALSH 30', 57')
New Zealand 0
Halftime: 1-0
WIN Stadium, Wollongong, Australia
New Zealand: 20-Rebecca ROLLS (GK), 3-Anna GREEN (2-Ria PERCIVAL 61'), 4-Katie HOYLE, 6-Rebecca SMITH (captain), 9-Amber HEARN, 10-Sarah GREGORIUS, 12-Betsy HASSETT (8-Hayley MOORWOOD 70'), 13-Rebekah STOTT (14-Holly PATTERSON 83'), 15-Emma KETE (17-Hannah WILKINSON 46'), 16-Annalie LONGO (18-Katie BOWEN 84'), 19-Kristy HILL.
Substitutes not used: 1-Jenny BINDON (RGK), 5-Abby ERCEG.
Coach: Tony READINGS
Cautions: Katie HOYLE 15', Holly PATTERSON 83'
- APNZ