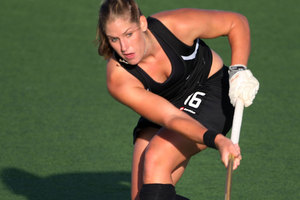 The Black Sticks Women will take on Australia in tomorrow's final of the Four Nations tournament after securing their finals berth with a 3-1 win over the USA at the North Harbour Hockey Stadium tonight.
In today's final round robin match, the Kiwis just needed a draw to make tomorrow's final and they did that convincingly with the two-goal victory.
Black Sticks coach Mark Hager said it was pleasing to get the win and put some goals in the back of the net but he was still frustrated with the attacking conversion rate.
At this stage in the team's preparations for the London Olympics, Hager said the focus was on defence and the team's attack was probably suffering.
"At the moment we're not really concentrating on our attack. We're just getting our defensive structures in place. We've probably suffered because of that and after this series the focus will be back on how we attack and how we finish."
The match was all square at 1-1 at halftime after the 10th ranked USA slotted in a late goal despite the home side having many more chances in the first spell.
Charlotte Harrison put the Black Sticks ahead as yet again her perfect positioning on the post allowed her to connect with a strong Anita Punt cross in the 23rd minute.
But that was New Zealand's solitary result despite five penalty corners and numerous other opportunities in the circle. And it was only a piece of brilliant Black Sticks goalkeeping from Bianca Russell that prevented the USA from going ahead at halftime as she stopped a two-on-one breakaway midway through the first spell.
The USA finally got on the scoreboard in the 33rd minute with a penalty corner effort from Shannon Taylor that deflected off a Kiwi defender into the goal.
New Zealand made the ideal start to the second spell with a Katie Glynn goal after a scramble in the circle in the 43rd minute. Glynn put the result beyond doubt 15 minutes later with another deft touch in the circle.
Cathryn Finlayson brought up 50 caps for her country tonight, while captain Kayla Sharland required stitches to a cut on the knee but is still in contention for tomorrow's final.
In the earlier match, Australia held off a spirited Indian effort to claim a 1-0 victory after a penalty corner goal in the sixth minute of the match to Georgia Nanscawen.
Tomorrow's final between the sixth ranked Black Sticks and the seventh ranked Australia is at 6.30pm at North Harbour.
The Four Nations tournament continues until 22 April with the second series starting on Wednesday at Lloyd Elsmore Hockey Stadium in Pakuranga.
- Herald Online