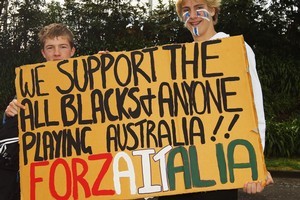 All Blacks fans show their sign supporting Italy - and apparently anyone else but Australia. Photo / Getty Images
Rugby World Cup: Are Kiwis bad sports?
Melbourne-born broadcaster Alison Mau says
there is more bad feeling
from Kiwis toward their Aussie neighbours than they're willing to admit.
Rob Crawford:
"Is this what we are about? All angst ridden, insecure,
mob mentality?
I really hope not!"