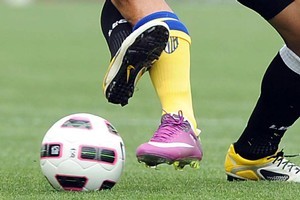 An investigation has been launched into a bizarre end to a Southland premier club soccer match in Invercargill.
Waihopai were leading their match against Queens Park 1-0 with time almost up last Saturday when, according to a Southland Times newspaper report today, Queens Park's Cory Johnson was fouled in the penalty box and referee Phil Bulling pointed to the spot to award a penalty.
However, protests from Waihopai players led to the referee changing his mind and blowing his whistle for fulltime.
The newspaper reported that Waihopai then left the field and headed for the changing rooms only for Bulling, the highest qualified referee in Southland, to change his mind again and allow Queens Park to take the penalty.
With no Waihopai players or goalkeeper on the pitch, Queens Park striker Jonny Cox slotted the ball into an empty net and the match was deemed a 1-1 draw.
Queens Park manager Scott Morton, whose involvement in soccer spans 30 years, said the incident was "probably the weirdest thing I've ever seen" and described the decision as "a schoolboy error".
Morton believed that because Bulling had awarded the penalty before fulltime, he had to allow his team to take it.
A posting on the Waihopai Football Club's website labelled Bulling's call as "one of the most bizarre refereeing decisions this side of the moon".
Southland Football's (SF) Kenny Cresswell, a former All White, told the newspaper his organisation had received a complaint from Waihopai, who argued they should have been awarded the three competition points for the win.
SF is seeking a full version of events from both clubs and the referee and will investigate the matter once all evidence has been compiled.
- NZPA