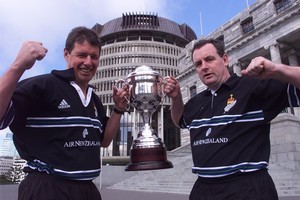 The latest disclosure of MPs' financial affairs actually reflects favourably on them, with the Parliamentary Sports Club revealing it has raised $50,000 for charities around the country over the past year.
Although it has existed since the early 1990s, the club, which fields teams of MPs in rugby, netball, cricket and golf, held its first annual general meeting only this week.
In his report on its activities, trustee and National MP Chris Tremain said the club had changed perceptions about MPs in the communities where it had played "by portraying a positive message about the Government and members of Parliament from across the House working together".
But Mr Tremain also noted that questions about the club's finances had arisen during the recent focus on MPs' expenses and the club had decided to "front-foot the financial position in an open and transparent manner". That included setting up two trusts, one to administer the club's finances and another to oversee its charitable activities.
The restructuring also saw a new system of deciding where the club's games are played, giving MPs the opportunity to approach local charities and sports clubs with the aim of hosting the team in their area.
During the year the club's rugby team played matches in Masterton, Rotorua, Franklin, Nelson and Napier, with its netball team also playing in Rotorua, Nelson and Napier. The games raised just over $50,000 for charities including surf clubs, a hospice and an environmental trust.
Further cash was raised for charity by rugby matches against a team of diplomats in Wellington and an international fixture in Rarotonga.
Mr Tremain said the coming year was shaping up as a big one for the rugby team, with six domestic matches planned and a trip to Australia. The club was also gearing up for the Parliamentary Rugby World Cup next year, with early indications that eight teams would attend.