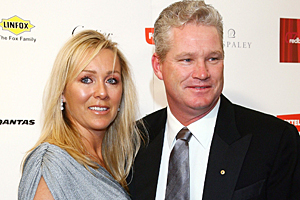 Disgraced former Australian cricketer Dean Jones is battling to save his marriage following revelations he fathered a lovechild with an air hostess.
And Jones has had one memento of his happy family life stripped away from him.
Named "Father of the Year" in 2007 in his home state of Victoria, the award was revoked yesterday after confirmation of a nine-year-long affair with the mother of his son Koby, who has his first birthday next month.
Jones admitted his affair with Kerri-Anne Hamilton at the weekend, ahead of an interview with the 35-year-old former model scheduled to be screened on an Australian current affairs television show tonight.
Father of the Year Council president Don Parsons said the award, first bestowed in 1956, was revoked because Jones's admission was contrary to what the organisation stood for.
"From now on, 2007 will simply show as blank - that's our attitude," Parsons said.
"To take off and have a love child, and that he hasn't even seen the child ... We are somewhat rocked by it. What sort of fathering is that?" he added.
The council had recognised Jones to mark his work with the Bone Marrow Institute, as well as for being a good father.
The affair began in the late 1990s after the pair met at a golf day.
Their relationship apparently soured last year when Hamilton, then six months pregnant, asked Jones for child-support payments.
Jones, 49, insisted he has supported the child financially.
He has been married to wife Jane for 24 years and has two daughters with her, Phoebe, 19, and Isabella, 14.
Jones played 52 tests and 164 one-day internationals for Australia from 1984-94.
- NZPA