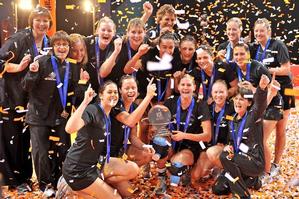 New Zealand are the inaugural World Series netball champions after a final day of surprises in Manchester.
The Silver Ferns left behind some patchy form over the first two days of the rapid-fire tournament played under a set of new rules, accounting for Australia and Jamaica this morning (NZT) to claim the title.
They reversed the result of a day earlier by thumping Australia 27-17 in their semifinal.
Surprise opponents in the final were Jamaica, who had stunned the previously-unbeaten England 33-22 in the other semi.
A tight final was won 32-27 after New Zealand had led just 6-5 through the first quarter and 11-10 at halftime.
The key was their third quarter power play, where double points count for their goals, which saw a 27-22 lead established.
Coach Ruth Aitken lauded her team's ability to adapt to the new rules after her team lost round-robin matches to England and Australia to qualify third for the semifinals.
"We were certainly slow starters in the tournament but probably in the end it's not how you start but how you finish that makes the difference," Aitken said.
"We felt today that we put our whole game together and were a lot more composed on attack.
"Jamaica played very well against England, they were very tenacious. We had to really meet the ball strongly and make sure of everything."
Matches at the six-nation tournament comprise four six-minute quarters while some rule changes include the allowance of rolling substitutions and goals scored outside the circle worth two points.
New Zealand were far more fluent against Australia, with midcourters Temepara George and Laura Langman settling quickly into a sweet rhythm on attack.
They regularly found goal shoot Irene van Dyk - who was rested from yesterday's loss to Australia - and the veteran responded with 12 from 14 shots. Goal attack Paul Griffin, who played the last three quarters in place of Maria Tutaia, managed six from seven.
"Probably a big difference was our confidence in each other and therefore a bit more accuracy in our passing," Aitken said.
"Earlier in the week we were turning a bit too much ball. Today there was some real quality netball."
Again it was the third quarter that proved decisive against Australia. Both teams enforced their power play but New Zealand responded best, dominating the stanza 14-4.
A tired but delighted Silver Ferns squad boarded a bus soon after the final, bound for Bath where they play England in a one-off test on Friday morning (NZT).
- NZPA