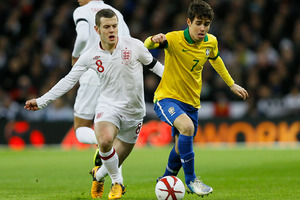 How many English footballers ever looked as though they might just be comfortable in a Brazilian shirt?
Not so many, not so recently if we are honest and forget the days of men like Finney and Matthews, Charlton and Greaves and Moore. The young and joyful Paul Gascoigne had a chance, of course, and it's also true that the warmest believers in Wayne Rooney still argue that he may just one day reclaim the most dazzling promise of his youth.
A slim list, certainly, but it was entirely reasonable to add another candidate.
Jack Wilshere looked as if he could play for anyone, and yes, that included the world's greatest football nation. No, he may not ever be a sublime creator in the fashion of the 1970 phenomenon Gerson or the young Ronaldinho, of whom we saw only the faintest shadow here. He might not even touch the sleekest work of Chelsea's Oscar, who quite beautifully put his Chelsea team-mate Ashley Cole under the most desperate pressure on the unsurprisingly truncated occasion of his 100th England cap
But what Wilshere has, and displayed with quite relentless enthusiasm against the Brazilian team Luiz Felipe Scolari is hoping to galvanise all the way to another World Cup final, is something you measure not so much in artistic impression but practical effect. There were times when Wilshere was the heart and the spirit and, most vitally, the brain of England, and when manager Roy Hodgson leapt to his feet as his team claimed the lead, he was celebrating a lot more than the first advantage in a friendly match. It was the possibility that his recent glum talk of England maybe needing a play-off route to the World Cup finals in Brazil might just have to be sharply revised.
The opportunity for home grown players in the Premier League may be the lowest among front rank football nations but here was the clearest evidence that sometimes an individual is good enough, strong enough, to get the better of even the most discouraging system.
There was a time when Wilshere might have felt like a foreign intruder from Hertfordshire amid the exotic accents of the Arsenal dressing room. Now he is the heart of his club - and, this evidence insists, also his nation.
Rooney scored the opener with fine accomplishment - and was at his sharpest when he played in the unstoppable warhorse Frank Lampard for the restoration of England's lead - but it was Wilshere who had undermined Brazil with a through-ball of devastating simplicity.
He kept on doing it with a relish for the action which separates from the merely good and talented players those who are determined to leave their imprint on every game they play. In Wilshere's case the promise that the bigger the game, the bigger the imprint.
Captain Steven Gerrard, for whom Rio next year represents a Last Hurrah to be fought for more strenuously than any challenge he has faced before, had made an impressive impact in the early going and it was one that was maintained in the company of Lampard. Rooney was intent on justifying the praise of Brazil's Neymar that he was a point of genuine world class in the England team and there were times when he did it impressively enough. Still, when the man of the match announcement came it was surely the last word in formality.
Wilshere's future was clouded by what was increasingly feared to be serious injury. There were other worries. Too much pressure was being applied by a needful club and country. He may have earned his battle ribbons against Barcelona, no less, in his first full season of big-time exposure, but there was still a huge leap in becoming the man to lead Arsenal and England on to new and more encouraging terrain.
Here we saw that it is possible to meet the highest demands if you have a sufficient level of self-belief. The challenge represented by Brazil might have built in more vulnerable young minds, and especially when Scolari's audition moved on a new level of commitment with a piece of thrilling scoring skill by man who at that moment seemed poorly served by his stage name of Fred.
Wilshere could have hardly been less intimidated. He continued to play the kind of football that doesn't so much draw attention but announces a result. He played with a tactical understanding that owed little to any coaching manual. It was an instinctive feel for the flow for the action and, of course, it was been one of his most impressive characteristics since he first emerged as a potential major figure.
Along the way there have been cautionary statements about excessive risk in his tackling, a disturbing sense that sometimes his desire might be destructive as it was all-consuming.
At Wembley he mocked such worries. He said they were the excessive fears of more nervous souls. He knew what he had to do. He had to go out against the Brazilians and show that he was not only at home but that his feet were very firmly under the table.
This was a performance not only of burgeoning confidence but quite riveting authority. It had the mark of someone who has been remembered most intensely these last few days when thoughts have turned to the highest levels of international football. It was a touch of mastery from someone running years ahead of his time. Yes, it reminded you its most engaging way, of Bobby Moore. A different player, no doubt, but there he was, a young player running years ahead of his time, an old head, an old football soul at the heart of the action