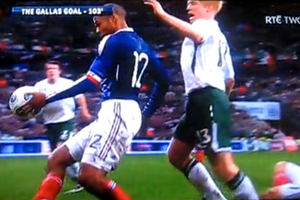 In dealing with their latest dramas, which came to a head on both sides of the world last weekend, maybe the rule-makers at Fifa might cast a look at the NFL.
The events in the Manchester United-Chelsea and Everton-Liverpool Premier League matches, and to a lesser extent the A-League clash in Adelaide, have put a spotlight once again on costly officiating mistakes.
Fifa have moved at a glacial pace at the prospect of introducing video technology but even the Swiss bureaucrats must be tiring of seeing important goals scored with an asterisk beside them. Driven by innate conservativeness, their approach has mostly been right. League and rugby embraced video technology with indecent haste and its impact has been huge and not all positive.
This is especially so in the NRL, where it has changed the rules of the sport (who had heard of 'separation' until a few years ago?) and has led to some bizarre, inexplicable decisions.
Football thrives on theatre and drama, and isn't suited to constant video intervention but there is room for refinement.
Why doesn't football take a look at the NFL? They review every scoring play through the replay assistant sitting beside a monitor on the sideline. If there is something questionable, the referee is summoned and makes the final call.
Goals are the most precious currency in football, worth millions at the highest level. Under the NFL system, Luis Suarez's 94th minute winner at Goodison Park, which was flagged offside, would have stood, while Javier Hernandez's late strike in London would have been expunged. It also would have seen Cassio's match-turning goal for Adelaide against the Phoenix disallowed.
Thierry Henry's World Cup qualifying goal for France against Ireland in 2009 would have been rubbed out after his blatant hand ball.
This system is far from perfect but the obvious advantage is that neither players nor referees can request a video replay. Referees and their assistant would make decisions as they always have and not become gun shy - as they have in league and rugby.
The top Fifa linesmen are exceptional, especially when it comes to offside, making decisions at extreme speed that are usually spot on. This needs to be maintained. Reviewing goals should not take long; most of it could be done in the time it takes for the players to wander back to halfway.
Ninety-five per cent of goals would be given an automatic and quick verbal green light by the replay official but, on those crucial occasions when a mistake has been made, it can be quickly corrected.
It wouldn't be without issues - imagine the reaction at Goodison Park last week if the Suarez header was first disallowed then ruled a goal 30 seconds later - but would be worth the price of some momentary dissatisfaction.