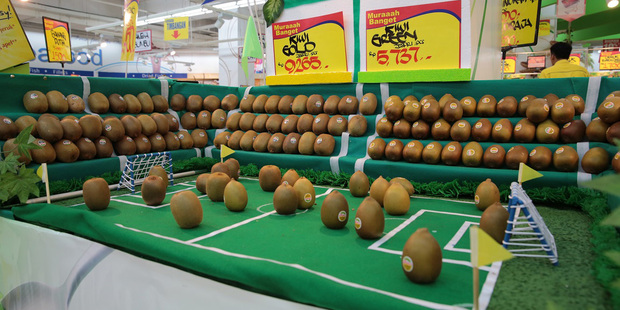 A hedgehog in Bude, Cornwall, England, was taken to the vet because he was so big and round that he couldn't walk or curl up. Veterinary staff were puzzled, because the huge hedgehog was of normal weight. An x-ray revealed that the animal was inflated. Veterinary surgeon Adam Revitt said balloon syndrome was unusual and occurred when bacteria gets into a wound and releases gas that becomes trapped under the skin. Mr Revitt used a syringe to slowly deflate the hedgehog over about five minutes. (Via Nothing to do with Arbroath)
Community united in search of Baxter
Tessa writes: "When the huge electrical storm came through Auckland last Tuesday, a boxer by the name of Baxter took off from his Howick home. Five people tried to catch him but he was too terrified and too fast. Since then over 70 people who don't even know him or his family have been out combing the streets in the rain or in the dark with torches looking for him. They've volunteered to hang posters in their stores, hand them out on the streets, do letterbox drops and go door knocking. So far, no sign of Baxter but he has people everywhere looking for him so we're hoping he's found soon.
A psychic has even offered her help on the case. It warms my heart to see how kind and caring the community are, pulling together to help over one lost dog."
Mountainous read long overdue
Jen writes: "I was recently in Nepal doing some climbing in the Himalayas on my way to Everest and in one of the tea houses I stayed at in a village called Dingboche, I came across a rather humorous book. It had obviously been left there by another climber who was passing through ... its origin? Auckland City Library! In hindsight I probably should have brought it back with me to return."
Now just a figure of fun
Male body shapes: Simon writes: "As a teenager I was so slim that my mother described my figure as 'tubular'. I told my wife this one day and she said, 'Hmmm - these days, you're more pipette-shaped'. So cruel."
Britain ... bin there, done that
"Our wheelie bin has 'Greater Shepparton City Council' on it," writes Dawn Chote of Stanmore Bay. "I assume it's from the UK. Maybe someone used it to pack some belongings in a container when they came out to New Zealand - guess we will never know."
Video: Three NZ Police constables are being interviewed about their job at an event in the Wellington town hall when the Harlem Shake ditty came on the sound system....
Quiz: Why Did I Lose him? (a quiz for uppity girls on why they drove their boyfriend away from 1963.
Quick clip: A three-year-old on the arrival of her sibling...
Video: What kind of Asian are you?
Got a Sideswipe? Send your pictures, links and anecdotes to Ana at ana.samways@nzherald.co.nz