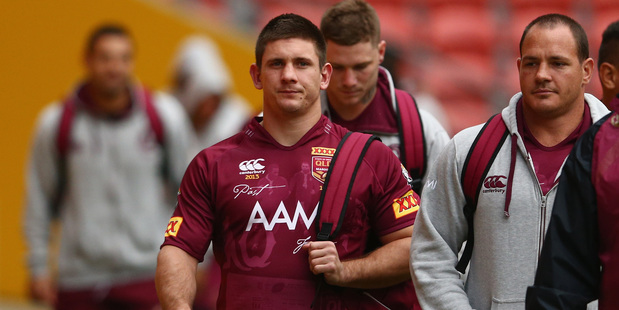 Warriors prop Jacob Lillyman has been engaging in banter with some former teammates now playing with the Penrith Panthers, ahead of Sunday's match-up at Mt Smart Stadium.
Since former coach Ivan Cleary's departure for Penrith at the end of 2011, several Warriors players have followed his lead, with Elijah Taylor, Lewis Brown, Jeremy Latimore and Isaac John all finding a new home at the foot of the Blue Mountains.
Lillyman keeps in regular contact with his old mates and admitted their presence would add an extra edge to a clash that sees the Warriors, currently 10th on the NRL ladder, test themselves against the second-placed Panthers.
"I actually sent Elijah a text this morning. He's a good dude. I got on really well with Elijah and there was just a bit of friendly banter before he comes over. Obviously Ivan's got a long history with the club too and I had a lot to do with him so it will be good to catch up with them after the game," Lillyman said.
"I talk to all of them, big 'Lattsy' and Lewi. It's never anything very serious, the type of blokes they are, they love a gee-up and I try and gee them up as much as possible. They're doing really well at Penrith and as a club they're going so well. It's going to be a massive game for us and quite an important one."
Lillyman says he understands those players wanting to remain under Cleary's tutelage but after suffering twin defeats to the Panthers last year - the first a humiliating 62-6 thrashing at Penrith, before a late season 28-24 loss in Auckland - he remains hungry to reverse their winning trend.
"Obviously a few guys from here have gone over and that's the regard that Ivan is held in as a coach and they've all done really well over there. Hopefully they don't do too well this weekend. They got us a couple of times last year, one not so happy memory, so it would be nice to get one back on them."
After managing to avoid the spotlight through most of the early part of the season, the Panthers have since proved themselves as one of the NRL's most underrated sides, and have gone the past two months undefeated since a slip-up against Cronulla in round eight.
"They're not scared to move the ball no matter where they are, they're really tough defensively especially through the middle, so we're going to have to wear a few bruises. They grind teams out and they've got some halves in good form so it's certainly going to be a massive task."