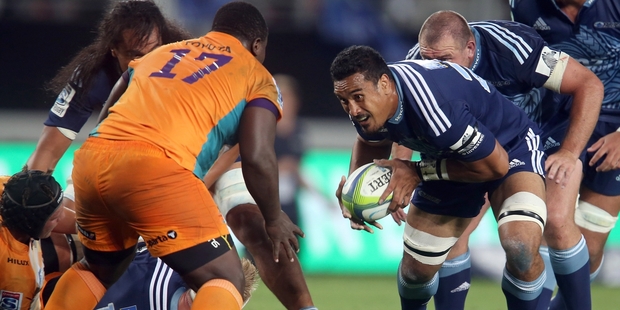 Jerome Kaino and Ma'a Nonu have come through their first assignment of the season and will see their workloads increase markedly from here, but it's the continued progress of young first-five Simon Hickey which is proving an unexpected bonus for the Blues.
Hickey, 20, was successful with eight from nine attempts at goal in the 40-30 victory over the Cheetahs at Eden Park, a 20-point haul which is becoming a trademark since he made his debut in the victory over the Crusaders in his team's second match of the season.
His coolness under pressure and ability to make the right decision at the right time in the pivotal position suggest he has a big future. His goalkicking, moreover, is methodical, simple, and extremely accurate. He has been successful with 22 kicks from 24 attempts for a strike rate of 92 per cent. Anything over 80 per cent is seen as good in the modern game.
Coach Sir John Kirwan has indicated Hickey is set to stay as first-five.
Kirwan has Chris Noakes, Baden Kerr and Benji Marshall as options there, with the first playing two matches, but Hickey seems set for an extended spell in the jersey as the Blues look for the combinations that will enable them to put in more consistent performances. They are yet to put in a cohesive, concerted effort this season, and after losing to the Highlanders in week one, the arrival of their southern rivals for the match at Eden Park next Saturday should serve to focus minds.
Loose forward Kaino and midfielder Nonu made long-awaited returns for the Blues when they came off the reserves bench for 27 minutes on Saturday night.
Kaino appears to have lost none of his power despite two years in the helter-skelter Japanese game, and while there will be questions around how the Cheetahs managed to breach the Blues midfield with such ease late in the game, Nonu will improve with more minutes following his recovery from ankle surgery.
Second-five Jackson Willison has sore ribs and No8 Peter Saili awoke yesterday very sore following a busy match, with Kirwan indicating both Kaino and Nonu would be good to start against the Highlanders.
"I don't know if they're good for 80 minutes but they're certainly good to go," he said. "They were a little bit rusty but that's to be expected in the first game back."
With two matches still to play before the Blues' first bye of the season, Kirwan must think about juggling his resources. Skipper Luke Braid, again tireless against the Cheetahs, is one who needs careful management. APNZ
- APNZ