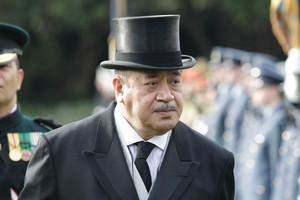 The once-impressive Tongan royal residence in Auckland will be stuck in time after protesters successfully stopped moves by the King to sell it.
A New Zealand-based group opposed King George Tupou V's plans to put the property - known as 'Atalanga and valued at about $9 million - up for sale.
They have been campaigning against the sale for about a year.
Despite being the official royal residence in Auckland, 'Atalanga has not been renovated and is now a faded shadow of its former glory.
King George, known for his extravagant lifestyle, rarely visits Auckland and does not stay at the Epsom residence, preferring upmarket hotels when in town.
The dispute began because the group believed the property was not the King's to sell as it had been bought with state money.
However, the King claimed that it was bought with the royal family's own private funds and did indeed belong to him personally.
The 1.58ha property at 183 St Andrews Rd was bought by the late Queen Salote - the King's grandmother - in 1952 to house Tongan scholarship students studying in Auckland.
It was put up for sale last year and was advertised by real estate company Bayleys as exceptional.
Auckland-based lawyer Joel Fotu - one of three lawyers representing the group - told the Herald yesterday that the King had withdrawn the challenge to a caveat to prevent the sale of the property.
A hearing in the High Court at Auckland was to determine whether the residence could be sold; however, a lack of evidence saw the King's representatives sign an agreement.
"The King's advisers had no evidence to prove that Queen Salote's own money was used to purchase 'Atalanga," Mr Fotu said.
"But we did a lot of research and tracked down records ... showing that 'Atalanga was purchased with state money - it came from the Tongan reserves."
Mr Fotu said Tongan taxpayers were having to foot the annual $28,000 bill for its upkeep.
He said many people in the Tongan community, both in New Zealand and the islands, were thrilled about the outcome.
Auckland-based Tongan community leader Josh Liava'a, a former scholarship student who lived at 'Atalanga, said he was satisfied the people had come out on top.
"I'm so glad that that's how it is. I'm greatly relieved. If that property was sold, the Tongan people would have never had seen [the money]."
'ATALANGA
* $9m value of royal residence
* 1.58ha size of property
* $28,000 upkeep per year by Tonga