The tang of citrus is an invaluable ingredient for that something a little bit extra.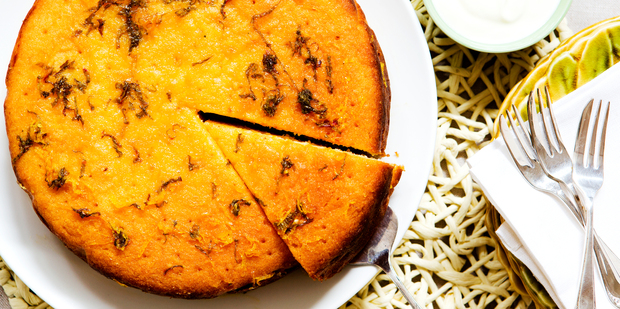 When I think of California, I think of sunshine and juicy oranges. Right now, back here in NZ, it is the faithful lemon that brings year-round sunshine to the kitchen.
Where would a cook be without a lemon, from a pre-dinner gin and tonic through to marinades, dressings, sauces, soups and mains to desserts; without the flavour and acidity a lovely juicy lemon provides? Not just a wedge to be squeezed on a piece of fish, lemon can often be the crucial ingredient to add tang and lift a dish out of ordinariness. Essential in dipping sauces and as a tenderiser, it is also a key ingredient in cakes, biscuits and tarts.
Though lemons are available all year round, now is the time when backyard trees or patio pots are becoming laden and will continue so through spring. There are a few different varieties but the Meyer remains one of the most popular because of size, its slight sweetness and juiciness.
Today I have chosen recipes that show the versatility of the lemon - in a soup, with very moreish sticky chicken wings and in a syrupy semolina cake.
Add a salad to serve with the chicken wings and you have three courses if you desire, but each component is delicious in its own right.
The soup is hearty but full of light, invigorating flavours, simple to make and nourishing.
The lemon-peppery chicken wings are a favourite and good hot or cold. Ideal to nibble on for supper in front of the telly - but make plenty as they are so tempting and hard to stop reaching for.
Lemon semolina syrup cake is lovely at any time of the day and, because of the syrup, lasts well for a few days. Semolina gives a slightly crumbly texture and the yoghurt keeps it moist. Plenty of lemon ensures a distinctive aroma and tang and by adding cinnamon and mint to the syrup, unexpected flavours are included. This is also delicious served warm with extra syrup and thick yoghurt.
Chef's tip
Choose lemons that are bright in colour and feel heavy for their size which indicates plenty of juice. Wash before zesting or grating in case sprays have been used. Remember to grate just the skin avoiding the pith which is very bitter. Store in a bowl where they will be happy for a week or two or refrigerate in hot weather.