Like it: 73 per cent
Hate it: 14 per cent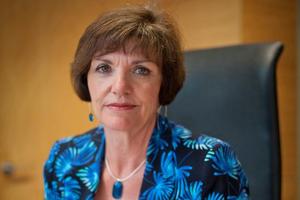 Education Minister Anne Tolley yesterday welcomed the survey result, saying it confirmed what she had been hearing anecdotally. Photo / Supplied
Almost three-quarters of parents support the Government's controversial national achievement standards for primary and intermediate students, though few fully understand it, a Weekend Herald survey has found.
The survey - conducted by Nielsen - asked 545 Herald readers with school-age children a range of questions about the standards system, which came into force this week.
A total of 73.2 per cent (399) of respondents - all of whom live in Auckland - said they supported the introduction of standards for reading, writing and maths in their children's primary schools.
However, just 11.9 per cent said they had "a full understanding" of the policy; 61.8 per cent said they had a partial understanding, and 26.2 per cent admitted not understanding it.
Slightly more than half of those surveyed - 53.9 per cent - believed national standards would be good for their children's education, while 36.5 said it would make no difference.
Less than 10 per cent thought the standards would have a bad effect on their children.
Education Minister Anne Tolley - now relieved of her tertiary education portfolio so she can concentrate on "selling" the national standards - yesterday welcomed the survey result, saying it confirmed what she had been hearing anecdotally.
She said she held "pretty high hopes" of converting the non-believers.
The NZ Educational Institute, the union for primary teachers, fears the new policy is flawed and has embarked on a nationwide bus tour to push for the standards to be either given a trial run or dropped altogether.
President Frances Nelson told the Weekend Herald the 73.2 per cent support was understandable but misleading as many parents did not understand the difference between national standards and those already in place.
The survey found that while 59.8 per cent of parents were aware of current standards, only 34.9 per cent understood the differences between those and the new policy.
Mrs Tolley said it was "quite expected" that the public would be light on the detail of national standards, but it was clear they "agreed in principle" with the policy.
The survey result did show the need for the Government to push the standards message, the minister said.
"It's my job to get out and talk to as many people as I can."
A majority of readers - 56.3 per cent - believed the system would create "league tables" that parents would use to choose their children's primary school, and 47.9 per cent thought that would be a good thing.
But almost half - 48.4 per cent - of those surveyed were concerned that national standards would lead to schools focusing on publicly reportable subjects, to the detriment of the wider curriculum.
The survey also found that a majority - 56.1 per cent - believed that many of the subjects not covered by national standards, including social sciences, art and technology, were as important as or more important than reading, writing and maths.
Frances Nelson said that while learning the three Rs was "critical" for children, existing standards guidelines drew from a wider range of subjects.
"Parents are concerned," the union leader said. "They want more for their kids than reading and writing."
She also repeated her union's call for the system to be trialled before it was implemented in full.
"The new standards don't have any trial or pilot information to make you think they will be accurate."
Mrs Tolley said parents' concern about the wider subject range showed there was "a balance to be struck" when setting future standards.
KEY FINDINGS
Those in favour of national standards:
YES - 73.2%
NO - 13.8%
DON'T KNOW - 13%
Do you understand how the new system works?
FULLY - 11.9%
PARTIALLY - 61.8%
NOT AT ALL - 26.2%
The effect of national standards on your child:
GOOD - 53.9%
BAD - 36.5%
NONE - 9.5%
Will standards create school 'league tables' for parents to plan their child's schooling?
YES - 56.3%
NO - 17.1%
DON'T KNOW - 26.6%
Would that be a bad thing?
YES - 38.8%
NO - 47.9%
DON'T KNOW - 13.4%