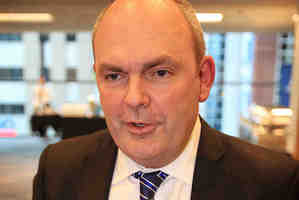 A rescue plan may be in the wings for the film industry as pressure mounts over the Government's decision to hold the line on incentives used to entice major productions here.
Economic Development Minister Steven Joyce has asked Film Commission and Film NZ officials to look at interim measures for a screen production industry enduring its biggest contraction in 20 years.
He hinted that incentives could be tweaked following harsh criticism of a two-year review which underpinned a decision in August to leave the grant for large-budget productions at 15 per cent of expenditure, despite other countries raising their sweeteners as high as 25 per cent.
James Cameron's Avatar sequel and Nickelodeon series Power Rangers are among productions wavering over whether to film here in the face of the high New Zealand dollar and inferior incentives.
Mr Joyce indicated any backdown might be short-term to help the industry to "transition" from a fee-for-service model dependent on foreign studios to one with more control over content and production and ownership of "intellectual property".
"The question for us looking at the film industry is how do we become price makers rather than price takers. If we're going to make a change, how do we make that happen?"
While not wanting to pre-empt what officials recommend, he agreed the more sophisticated incentive schemes introduced overseas - such as the British model which has qualifiers such as cultural content and local crew minimums - might be worth considering.
But industry leaders question whether the shrinking industry will have the skills and infrastructure needed to sustain a new model, such is the exodus of top talent and loss of assets as businesses cut back.
Felicity Letcher of props and prosthetics maker Main Reactor says the Government's approach risks winding the industry back 20 years "so when a big show does come down here we won't be able to service it".
Industry tax adviser Pieter Rolls says the review decision risks killing off the Auckland-based industry.
"We need a very clear strategy that says this is where we want to be in a few years' time and that's where Steven Joyce has failed."
Film Auckland deputy chairman Alex Lee says the Film Commission's work "smacks of a face-saving exercise".
Film Auckland is arranging an industry-wide meeting next week to develop a united front and consider solutions.