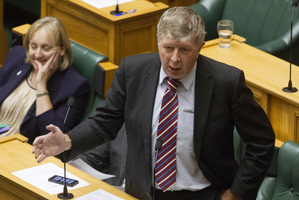 Never has a man moved from ridicule to glory so quickly. Just days before his speech on same-sex marriage, National MP Maurice Williamson was being pilloried for voicing concerns not about the gay onslaught, but the likely onslaught of Ecstasy tablets at the nation's borders with the advent of 3D printers.
A week later, he is feted by global celebrities.
His most pressing concerns were whether his newfound Twitter base would be sufficiently entertained by tweets about Howick Community Board meetings, and whether the legacy of all his decades in Parliament might be that one speech rather than his work on the Land Transport Safety Agency, biosecurity measures, or his wrangling of the Plumbers, Gasfitters and Drainlayers Board.
Williamson has never really given a poop what people think about him, so he was having the time of his life. That joy was only enhanced when the perpetually good-natured Kevin Hague observed that months of work by Labour's Louisa Wall and himself had been outdone by a hat-trick of speeches from National Party men in their 60s: Paul Hutchison, Chris Auchinvole and Williamson.
Key - who did not speak on the bill - has also taken it in good humour, describing Williamson as "our little gay icon". In truth, National is probably slightly squeamish about the attention its MPs have secured on the issue. It is unlikely to win National any votes and more likely to lose them votes among its more conservative core. It is the kind of thing they could support, but without drawing too much attention to themselves for it. More than half of the National MPs supported the bill - and that was manna from heaven for Conservatives leader Colin Craig, hoping to get enough of a boost to become a serious contender in 2014. After the vote, Craig appeared to find flaws in Williamson's claim that the world would not end.
"The day of reckoning is still to come" he tweeted, prompting one follower to ask him to be more specific: "I'm hosting a BBQ and I'd hate to get locusts in the potato salad."
Furthermore, NZ First leader Winston Peters is standing on the sidelines, rubbing his hands with such vigour that the friction could be harnessed into the main grid as an alternative power source.
As Williamson spoke, Peters was taking the Silvo to the spoon he uses to stir up the sludge that lies uneasily at the bottom of the pond of discontent.
So after Williamson debunked the argument that same sex marriage would send the Four Horsemen thundering down the Pakuranga Highway, his fellow National ministers were quick to try to divert attention to another theory about why those horsemen were conserving their energy.
That was Labour and the Greens' policy to create a single, Crown agency to buy all the nation's power in a bid to keep prices down. Watching the potholes open up on its pathway to surplus, National had to send out the Treasury Town Crier to officially advise all those intending to buy shares in Mighty River Power that Labour had opened the doors to disaster.
Economic Development Minister Steven Joyce was cutting loose on Twitter.
He hauled out North Korea and the USSR. He mixed his modern and historical references: "Labour jumps the shark on the economy with half-baked soviet-style nationalisation idea. #comradeshearer." One follower responded by asking "Is that all you've got? Really? Reds under the beds?"
"NO," Joyce replied. "I'm just warming up." And so he was. He sent off a blast of numbers, warning that the cost of $330 in electricity would come at the cost of a lost $60-90 million in dividends and tax, and that the $330 would be wiped away by the increased Emissions Trading Scheme costs under Labour. There would be "collateral damage" and it would be you, the everyday New Zealander.
If Williamson had promised there would be no toads in the bed over gay marriage, it was only because the toads were too busy plotting the infestation on the NZ Power front. If Williamson pledged that people's mortgages would not increase because of gay marriage, the same could not be said of NZ Power which Joyce assured us would ultimately push interest rates up.
"Deliberate economic sabotage not generally an admired trait in politicians," Joyce decided. Known as the Minister of Lists for his proclivity to issue Government "to-do" lists on any particular topic, he released a list of four reasons why Labour and the Greens' policy wouldn't work. One related to Polish shipyards, a reference to David Lange's description of New Zealand under Muldoon as "run very similarly to a Polish shipyard".
"Polish shipyards won't work!" Joyce declared. All well and good, but Joyce might want to update his view of Polish shipyards from the Communist era. These days Gdansk Shipyard is part-owned by the state and part by a private investor. A bit like the Government's own "mixed ownership model".