In politics defeat is a cloak of invisibility.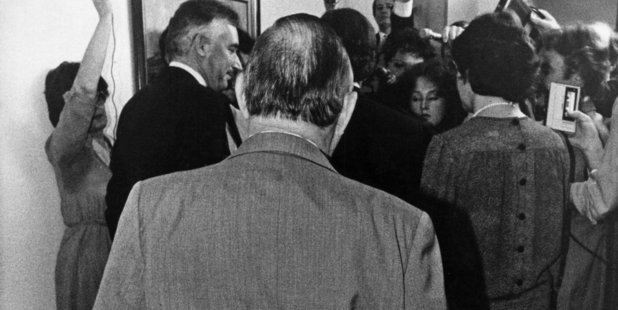 After nine years of hogging the limelight, Robert Muldoon found himself on the fringe in 1984. Four months earlier, the self-assured strongman had lost the general election. Just hours before this photo, he lost the National Party leadership.
New leader Jim McLay commands attention, with National Party president Sue Wood beside him. New Zealand would shortly experience its most dramatic economic and political revolution since Micky Savage introduced the welfare state a half-century earlier.
Wood remembers the day clearly. "It was the end of an era," she says. "He'd suffered a massive defeat in the snap election and his colleagues had lost confidence in him."
Wood says the shattered National Party had to rebuild its coffers, its membership and its sense of purpose. Muldoon, who had so dominated the media, was consigned to bitterness as he slowly sank into the world of has-beens.
Herald photographer Paul Estcourt remembers Muldoon as a "pisshead", strong-willed and heavy-handed. Muldoon exerted an unparalleled degree of dominance and fear. He hated photographers, but his distinctive frame was a blessing. "They always said he was a cartoonist's delight but he was also a photographer's delight," Estcourt says. "You didn't have to take a picture of his face to recognise it was Muldoon. He was recognisable anywhere, from any angle."
For five years, Muldoon's British counterpart was Margaret Thatcher, who died this week. Both assertive, both obsessed with power, they got along famously.
"Rob Muldoon and Margaret Thatcher were very close. In fact, it was an unusual relationship," Wood recalls. Thatcher was an acolyte, later a preacher, of radical free market ideas. Muldoon embraced the so-called postwar consensus, a bipartisan belief in the welfare state's sanctity. Yet divergent policies did not undermine their mutual respect.
Wood, who had dinner with the Iron Lady once, recalls Thatcher as a commanding presence. "She was in complete control of every situation, including the dinner table."
Political scientist Dr Jon Johansson remembers leaving New Zealand in the 1980s for an OE in England. Encountering Thatcher, he had a few moments of deja vu - she reminded him of Muldoon. "Their styles were cannily similar."
Like Thatcher, Muldoon also had trouble letting go of power, first ensuring his successor David Lange had a nightmare transition, then undermining McLay.
"Muldoon was 100 per cent devoted to politics," Johansson says. "We know from the currency crisis and the way he behaved after the change of government in '84 ... that his relationship to power was all-consuming. And it completely corrupted him by the end."