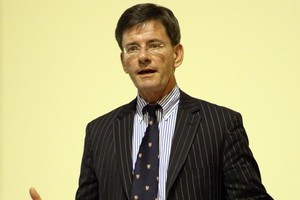 When an invitation is issued to a remote place, it is polite to also provide directions - especially if the route involves the Highway to Hell.
A land protest group's invitation to Treaty Negotiations Minister Chris Finlayson to travel to Taipa to visit them came with a driver to ensure he did not get lost - the Maori Party's Sat Nav, Hone Harawira.
However, Mr Finlayson's counter-invite to those protesters to "go to hell" had Labour MP Shane Jones baffled.
Curious about this invitation, Mr Jones stood in Parliament yesterday to find out more. He put to Mr Finlayson that when he told the protesters to go to hell, "what directions did he have in mind and whom did he think they might meet there?"
The minister declined to provide the GPS co-ordinates or the current hosts.
However, he had some inkling of the likely future inhabitants, observing, "Well, Trevor Mallard isn't dead yet."
Meanwhile, the stand-in for Pansy Wong as Women's Affairs Minister, Georgina te Heuheu, was caught in her own hellish version of the game known as "Say One Thing in Opposition, Do Another in Government".
Labour MP Sue Moroney had dredged up a Herald news article from 2003 in which Mrs te Heuheu described the ministry as a sexist relic which should be scrapped.
Ms Moroney now wanted to know if the Acting Minister of Women's Affairs was under orders from the Prime Minister to put that sentiment into practice. Mrs te Heuheu flailed momentarily, saying she did not recall making any such statement.
Ms Moroney persisted and Mrs te Heuheu finally rallied, saying the ministry may have been a relic in 2003 when Labour was in Government, "but it is certainly not a relic now. It is an action-packed ministry."
Herald investigations revealed the article in question was based on a press release from Mrs te Heuheu when she was women's affairs spokeswoman in opposition in 2003. She accused Labour of a "PC double standard" for retaining, and even strengthening, the ministry when it was folding Youth Development into another department.
She variously described the Women's Affairs Ministry as a "sexist stereotype [which] reinforces the archaic notion that women need some kind of protection from modern society" and a "governmental relic from another era". She wound up by saying the time might be right to review its future.
Two women were delighted to hear of Mrs te Heuheu's previous ambitions for the ministry. Act's own girl power, MPs Heather Roy and Hilary Calvert, issued a statement roundly applauding Mrs te Heuheu's 2003 vision and calling for it to be fulfilled.