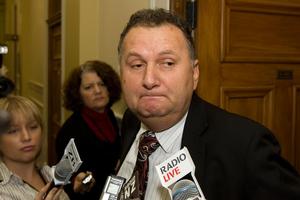 Ministerial Services today defended how it administered ministerial credit cards, while admitting public releases of the information would be an effective control.
Questions have been raised about administration of the cards since last Thursday's release of credit card records for ministers and their staff April 2003 until February this year.
The documents showed several ministers breaking the rules - especially when it came to using them for personal spending.
Labour's Shane Jones, Mita Ririnui and Chris Carter were demoted over their behaviour while others were left embarrassed by revelations of excessively expensive dinners and drinks.
Prime Minister John Key on Monday said the credit card information would be released quarterly.
He told reporters he did not know why the misspending on credit cards was not picked up earlier by the Auditor-General's office but said he could see it had been difficult for Ministerial Services to administer, given the power imbalance it faced when dealing with ministers.
He felt continued public releases of the information would resolve that.
Auditor-General Lyn Provost is conducting an investigation into how rules and processes around the credit cards, with the findings expected by September.
Ministerial Services sits within Internal Affairs whose chief executive Brendan Boyle fronted to media after a select committee hearing at Parliament this morning. He was asked about the power imbalance.
"I would think that that's something that the office of the auditor general will no doubt look at in terms of her investigation, the nature of that relationship, the way it operates and whether indeed there are some things that can be done to strengthen that."
However he felt that Ministerial Services had maintained a high level of scrutiny and ensured any wrong spending was repaid.
"I am comfortable that has been done according to the rules and what was expected of Ministerial Services."
He said the service had the power to strip a minister of their card but that had not been done.
"I think the relationship as it's managed between ministerial services and the minister acknowledges the fact that ministers are very busy people, they've got responsibilities, they are incurring expenditure on a whole range of items in the normal course of their business.
"Now obviously that means on a monthly basis those credit card receipts are examined...and in many instances a request for payment was made and payment was received."
Asked why, for example, Mr Jones was allowed to keep his card despite repeated offending Mr Boyle said Mr Jones paid back the money when asked.
"As a result of that he was continuing to use the card."
Some ministers wrongly had the impression it was OK to use the cards for personal use then pay it back despite this being clearly stated as being against the rules.
"The handbook is very clear and ministers when they are issued with a credit card actually sign up to that. The handbook is clear -- it says emergency expenditure is acceptable but it has to be paid back as soon as possible."
The continued public release of the credit information would make Ministerial Services job easier: "I think, as we've clearly seen, the issue of sunlight being the best disinfectant is something that hopefully will lead to greater transparency and also with the Auditor-General's report perhaps a strengthening of the system, so we do welcome that."
Last Thursday's release of 7000 documents followed the release of credit card expenditure for ministers in 2009. Following that exposure Phil Heatley resigned from Cabinet after admitting he misused his credit card.
However he was reinstated after an Auditor-General's inquiry found that while he spent $1402 of taxpayers' money wrongly he did not intentionally break the rules. The Auditor-General then started the wider review.
- NZPA